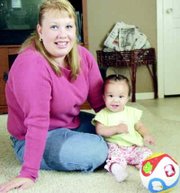 GRANDVIEW - Heidi Owen believes the Peace Corps must be a piece of cake. She believes being a stay-at-home mom is the "toughest job you'll ever love," to borrow the slogan.
She spends her days at her Grandview home with her two daughters, Gracie, 2-1/2 and Sophia, nine months. They play, they read. She was able to witness their first steps and is part of every moment of her children's lives.
Even though she spend her days with her girls, Owen found herself a bit lonely after moving to the Lower Valley in April. She missed her MOMS (Moms Offering Moms Support) club in the Tri-Cities, which she had been a part of for over a year.
"It was such a great support system," said the young mother of the stay-at-home mom support group.
Her group in the Tri-Cities met together on a regular basis to discuss child rearing, techniques they have learned in raising their children and for children's play dates, said Owen.
"Every activity is something you can bring your child to," said Owen. "Moms can talk and have interaction with other moms while their children play."
Missing her companions in motherhood, she decided to start a local chapter of the international organization, which has more than 1,500 chapters across the United States. Owen held an open house a week ago to draw interest in the group.
"It starts out small, but you want to draw people who have the same interests as you," said Owen.
Owen decided to be a stay-at-home mom like her mother. Although she has taken college classes in the past, she said, "I'm just not ready to leave my kids yet. When they're ready and a little more independent, I'll be ready."
She said one of the benefits she has noticed is that her children aren't as sick as much as other children.
Since the club formed in July, Owen has met several stay-at-home moms interested in forming the local chapter. Currently, the group meets mostly at Owen's Grandview home, but she hopes that as the group grows they will be able to meet in a church or community building.
She said they have already had talks on such subjects as, "How to get your picky child to eat."
"I have a problem with my 2-1/2 year old," said Owen. "All she wants to eat is crackers and cookies."
She hopes as the group develops they will be able to invite members of the community to speak to the group.
Owen is already looking forward to the fall and winter holiday parties the group will be having. She said they plan on taking their children on a hay ride in October.
"We will also be doing community service projects," said Owen.
A couple of her favorite programs she would like to see the local group tackle is Sierra's Bears, a program that purchases teddy bears for hospitals to give to mothers who have still-born births or lose their infant children.
Owen said the woman who started the program had a daughter, Sierra, die shortly after birth. A bear the woman received the morning Sierra died was a comfort to her and she decided to donate teddy bears to the local hospital to help other grieving mothers.
Owen would also like to have the group involved in building a toddler playground.
The greatest benefit Owen has found through MOMS is the support of other mothers who are going through the same issues she is facing.
"It's nice to share the experiences of motherhood with other mothers. I also like getting out of the house," said Owen.
Not knowing anyone when moving to Grandview, she added that it is nice to meet other people and finding children her daughters could play with.
"It's a very casual group and it meets during the day when moms need the support the most," said Owen.
As the club develops, Owen hopes to start babysitting co-ops, in which moms in the group trade babysitting time.
"There's no money involved, it's just trading babysitting time," she said. "It's difficult to find someone you trust to watch your kids."
The babysitting time could be used in the evenings for a date night with a spouse or during the day for a little grocery shopping.
"It's a luxury to go grocery shopping by myself," said Owen.
She also hopes to have a recipe club where moms will bring their favorite dish to share.
"This is one of my favorites because we get to eat them, too," said Owen, adding that the moms also share quick tips on preparation and recipe secrets.
"We also have mom's night once a month," said Owen. She said moms try to leave the kids at home, but if they are unable to they can bring the kids along for the night. On Mom's Night Out, the women will go to dinner, or a movie or have a fun or spa night.
MOMS Club is open to women who are pregnant up through women who have children in high school Owen said the only requirement is that they stay-at-home during the day with their children. She said that some of the moms involved in the group attend classes in the evening or work a few hours at night, but the group is still open to them.
The MOMS Club, which is open to all Lower Valley stay-at-home moms will be having a lunch play date at Burger King Monday, Sept. 27, at 11:30 a.m. Anyone interested in the group can contact Owen, 882-5787.