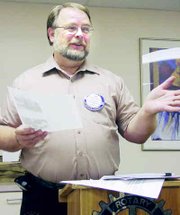 Tales of dangerous missions, daring escapes and a bit of history awaited Sunnyside Daybreak Rotary members at their meeting Wednesday morning.
Mike Hughes, a member of the local organization, served as the guest speaker, talking about World War II and the time his father, Robert L. Hughes, spent in the Army Air Corps.
Hughes said his father first joined the Army Air Corps in 1942, then went through a variety of trainings, ranging from basic training to flight school to learning how to fly B-17s. Ultimately, Hughes said his father ended up being stationed at Thorpe Abbots base in England, serving as a member of the 100th Bomb Group during the course of the war.
Hughes said during World War II his father, flying a B-17 named Nine Little Yanks and a Jerk, flew many missions over Europe. According to Hughes, his father was part of one of the biggest war battles in history, Black Thursday. Hughes told fellow Rotarians that on Oct. 10, 1943, Allied forces attacked as part of the second Schweinfurt mission, over Germany. Hughes said the 100th Bomb Group was the only group that flew in with seven planes, and were able to get all seven planes back out. He noted that 600 men were lost in that one mission.
"It almost squashed daylight bombing for Americans because of the loss," Hughes said.
Over time, Hughes has collected a variety of information about World War II and his father's involvement. He said he learned the last surviving member of his father's plane crew had written that his most exciting time in the air was when he got to slap the pilot. Hughes said that pilot was his father, who had lost his oxygen mask during the flight, and had fallen asleep in the cockpit. The crew member was forced to slap him so he could wake up and fly the plane.
Hughes said after World War II his father was sent to Houghington to work on B-17s. He said his father had worked for Boeing before joining the Army Air Corps, which meant he had an understanding of how the planes worked.
According to Hughes, his father spent 28 years in the service, retiring in 1969.