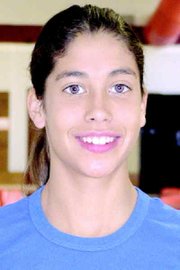 GRANDVIEW - This winter, while most people are bundled up in sweaters and warm coats, Grandview High School sophomore Brittnee Sanchez is planning to be running in the Hawaiian sunshine.
Sanchez, 15, recently received an invitation to take part in an Olympic-style track and field competition on the island of Oahu. The event is set to take place Dec. 28 through Jan. 5, and will include both an opening and closing ceremony, as well as performances by some of the top-ranked high school track athletes in the country.
Sanchez explained that the top three contenders from every state in different track and field events were invited to attend the Hawaiian competition.
Sanchez said last year, as a freshman, she went to the State track competition and placed second in the one-mile race and seventh in the 800-meter race.
In the time between now and the end of December, Sanchez will be busy preparing for the Hawaiian competition. She said she plans on training hard and she will also be working hard to raise the $3,000 needed to make the trip possible.
Sanchez said she is planning on asking for donations, selling candy and putting together a raffle to help raise the money needed to get herself to Hawaii.
Sanchez is no stranger to running competitions. She has been in track since seventh grade and as a freshman she decided to try out for the cross country team, as well.
For Sanchez, running is something that has come easily. She said she first joined the track team in seventh grade because all of her friends were on the team. However, it wasn't long before Sanchez realized that track was a sport where she could make a name for herself.
And with only one high school track season under her belt, Sanchez has already begun carving out her own niche. Last year, she broke two school records, shaving 18 seconds off of the previous one-mile record, coming in at five minutes and five seconds. She also broke the school record in the 800-meter, coming in with a time of two minutes and 19 seconds.
Sanchez said after joining the track team in middle school thinking she would be a sprinter, she soon learned that she was better at distance running. Since then, distance running has become the focus for Sanchez, who runs the 800-meter, one-mile and occasionally the two-mile race. Her interest in distance running is also what led her to take an interest in the cross country team.
"Cross country is more of a mental and physical sport," Sanchez said. "Where with track you're on the same surface all of the time, it's a big difference."
Sanchez, who is currently in the middle of her cross country season, said she is running about five or six miles a day with the 11-member team, only two of which are girls.
During cross country practice, Sanchez said the team takes turns running around Grandview, to Sunnyside and to Prosser. She added that every Tuesday the team runs up the Lincoln grade in Prosser.
Sanchez said she is looking forward to going to Hawaii, although she isn't going in with a must-win attitude. She explained that she knows she will be going up against some of the best high school athletes in the country.
"I just want to do the best I can," Sanchez said. "I'm not going there to win it."
Those interested in making a donation to help send Sanchez to Hawaii can mail their contribution to Brittnee Sanchez, PMB 266, 1726 Gregory Ave., Sunnyside, WA 98944.