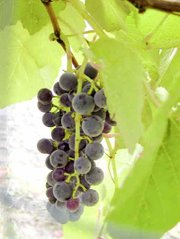 Drive past any grape vineyard and the sweet smell of ripened grapes fills the air, but not all is sweet in the grape market.
Recent surpluses in the California grape market are reaching out to impact local growers, who are now in their second week of harvest.
On top of the surplus in the grape market, Yakima Valley grape growers are looking at a smaller yield, an estimated 130,000 tons, due in part to freezing temperatures last January and a cool spring.
Despite the small yield, the quality of the grapes being harvested is excellent, according to Mike Concienne, general manager at the Grandview Welch's plant.
"We are getting good sugar and the wood for next year's crop is also looking very good," he said.
However, the yield appears to be down this harvest, averaging only about five tons per acre in most areas. "Last year, the yield was slightly over eight tons per acre," Concienne said.
While Welch bases its prices over a 20-month contract, he said other growers may be experiencing a drop in prices. "We've heard that Smucker and Milne have both set prices at $105 per ton for cash growers, he said.
"We're trying to be optimistic that prices will hold steady," he added.
Meanwhile, cash contract growers like Wayne Sylling of Outlook is concerned about the drop in the grape per ton prices. In an email to the Daily Sun News, he said a number of growers recently received word that some of them would be receiving lower prices for their Concord and Nigrara grapes after thinking their prices were locked in.
Now growers are asking the question, "What's up with cash grape prices?"
Currently, J. M. Smucker Company in Grandview and Milne Processing of Prosser are both paying $105 per ton. Yet just two weeks ago, the Smucker Company was quoting prices of $125 per ton.
In letters mailed to Smucker growers, company officials said they had originally set prices too high and were adjusting the prices per ton to $105 to be reflective of the current marketplace.
"It sounds to me like price fixing," said Sylling, but company officials said the prices just reflect the grape marketplace.
Milne Processing of Prosser announced its contract prices as $105 per ton for grapes with 16 brix, a number which refers to the sugar levels in the grapes.
"We are giving premium prices for grapes with higher brix levels," said Randy Hagman, general manager of Milne Processors in Prosser.
A depressed Concord grape market is being blamed for the lower prices, which means there is a cut in the demand for the grapes. "It's pretty competitive out there," said Dan Newhouse, a grape grower in the Emerald Valley area.
"The surplus of grapes coming out of California is making it harder for us," he said.
Juice companies are buying more wine grapes to blend into their juices, making it tougher to sell the Concords," Newhouse explained.
Grower payments are based on sales and movement of the crop, agreed Concienne.
"The prices are just lower this year," he said.