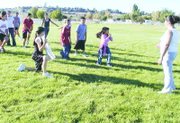 At the annual Sunshine Days Parade held last Saturday, the Sunnyside Community Center dance troupe made its debut performance.
The dancers slid and shook to hip-hop tunes as they made their way down Edison Avenue.
Elizabeth Hernandez, youth coordinator for Horizon Inc., said the group was formed a month ago as a way to give Sunnyside youths an outlet to build social, community and creative skills.
Currently, there are 14 participants who are members of the Jaguars Dance Team, which is sponsored by Horizon Inc. Hernandez said the boys and girls were selected because of their dedication to learning to dance and being part of the program.
Hernandez said they will be having auditions in a few weeks, hoping to boost the number of participants to 50.
"We hope to have auditions in October," she said.
Hernandez said her goal is to take the kids on the road to perform in the different communities in the Valley.
"We also want to perform around the state with other youth coalitions and youth groups," said Hernandez.
As the program develops youths in the troupe will have opportunities to attend dance camps, as well as being able to compete in dance competitions.
"We see a lot of girls around here and we thought dancing would be a good way to get them involved in something," said Hernandez, who added that the program is also open to boys, but there are more girls signed up at this time.
"Some of the older kids are acting as role models for younger kids," said Hernandez.
Hernandez said the youths, ages 9 to 17, participating in the program are learning dance steps under the instruction of Irma Bissonette. The participants are learning hip-hop and jazz moves, as well as some ballet.
"It's challenging and fun for the kids," said Hernandez. "With dancing different challenges arise. Facing the challenges in dancing when other challenges arise in life they will be able to face them as well."
There is no cost to participate in the dance team program. Practices are three days a week, Tuesday, Thursday and Friday, from 4 to 5 p.m. Hernandez said a local 4-H leader will be addressing the youths on proper health and nutrition and taking care of themselves as part of the program.
Hernandez said this Christmas they hope to put on a fund-raising program at the community center that will combine dancing with a play.
"The kids have really been excited about it," said Hernandez. "They have been working as a group really well. There are more who want to join, but they will just have to wait until tryouts."