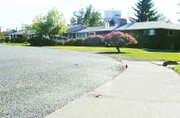 GRANDVIEW - Sitting in the quiet living room of Debbie Hanson's Concord Avenue home, it is easy to see why neighbors are banning together to ensure that their streets stay safe and their neighborhood stays friendly.
Hanson and the rest of her Concord Avenue neighbors have spent the past few months organizing a block watch and getting back to the basics of what makes a small-town neighborhood special. Hanson and her neighbors are reaching out and beginning to get to know each other again.
"I would like to be able to send my grandkids around the block," Hanson said, and that is what her neighborhood block watch is aiming to make possible.
Hanson explained that it wasn't until the Fourth of July, that she realized there was a problem in her neighborhood. She said she was sitting in her driveway with her family setting off fireworks, like many of her neighbors, and she noticed that cars kept speeding through the family celebrations. Since then, Hanson said she has had a chance to talk to other people in her neighborhood and has learned she is not the first person to notice the number of cars coming and going from a nearby residence.
Hanson said when she began approaching people living in her neighborhood to see if a block watch was something they would be interested in taking part in, she was happy to find that most people were really receptive to the idea.
The next step for Hanson was to get on the internet and see what she could learn about neighborhood watch programs.
"I just typed 'take back the neighborhood' into the search engine," Hanson said.
The next thing she knew, Hanson found the Mount Hood Coalition Against Drug Crimes, an organization that had been started thanks to the efforts of one woman.
Hanson immediately got in touch with the coalition and started figuring out what she would have to do to start up a similar program in her neighborhood.
Since first getting in touch with the coalition, Hanson has organized two neighborhood meetings, has talked to the Grandview Police Department, Grandview City Council and the Grandview School District, and put together a list of emergency contact numbers to pass out to everyone in her neighborhood.
Already, just months after having started her efforts to take back the neighborhood, those living on Concord are already starting to see a difference.
"We talk much, much more then we did before," said neighbor Don Middleton. "It gives a neighborhood a sense of hope."
Middleton said he has also been very happy with the response from the Grandview Police Department. He said the officers are aware of what is going on in the neighborhood and have been working with them to start up an official neighborhood block watch.
Cal Fuller, a Grandview police officer, said a neighborhood block watch is something that can be started in any neighborhood. He added that currently the only official neighborhood watch is on Concord.
"A neighborhood watch can be as simple as one neighbor taking the time to find out at least one other neighbor's name," Fuller said.
Although Hanson is happy to see the neighborhood watch program working so successfully in her own neck of the woods, she is hoping that others in the community will join the efforts of her and her neighbors.
Sunday, Sept. 26, Hanson and the rest of her neighborhood will be helping host a community meeting at the Grandview senior center, 401 W. Second St. in Grandview. The meeting, set to take place from 7 to 9 p.m., will help introduce others in the community to the neighborhood watch program and instruct them on how to begin one in their own neighborhoods. A representative from the Grandview Police Department will talk about current crime and drug use trends and what to watch for. A representative from Educational Service District (ESD) 105 will talk about how the ESD is involved in the community and someone will talk about the Grandview School District's intervention program. Hanson will also have copies of the list of local emergency phone numbers ready to hand out to everyone who attends the meeting.
Ultimately, Hanson said she would like to see a coalition formed in the community, a group working to ensure that drugs don't become common place in Grandview.
Hanson said getting more people involved from throughout the community will help get to the next step of forming a community-wide coalition. She added that once a coalition is formed, it will be possible to apply for grant funds to help offer programs that educate people on the effects of drugs and pay for activities that help promote community togetherness.