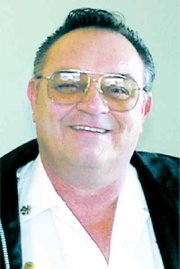 Sunnyside Fire Chief Jim Stanton is leaving his position with the local fire department. After 33 years of service to the fire department, Stanton will be leaving under a mutual agreement he came to with City Manager Bob Stockwell Thursday afternoon.
Stanton said he will be taking sick leave until Dec. 13, which will mark his 33rd year with the local department.
According to Stockwell, Stanton's leaving the department is "related a lot to his health conditions."
"He and I met yesterday (Thursday) and mutually agreed that it was time he filed for his retirement," said Stockwell.
Stanton's version of the meeting was a little different. He said he hasn't had any health problems since his surgery earlier this spring.
"My leaving has nothing to do with illness or my surgery in April. I'm healthier now than I was before," he said, adding that he no longer suffers from hypertension or diabetes. "I haven't missed a day's work because of sickness since I was released by my doctor."
Stanton said that in the meeting with Stockwell he was told to resign.
Stanton took over as the interim fire chief for the Sunnyside Fire Department in January 2000. He was appointed to the position of chief 11 months later in December of 2000.
Stanton said he will be using up his accumulated sick leave to finish out his 33rd year of service to the city.
Stanton was hired Dec. 13, 1971 under a government subsidized program for low-income people.
"The government paid part of my wages for the first three or four years before the city hired me full-time," said Stanton.
"It's been a good career," he added.
Stanton's leaving the fire department comes at a time when decisions about the ambulance service and the fire budget are still up in the air.
Stockwell said he will make an announcement next week as to who will fill the fire chief position in the interim.