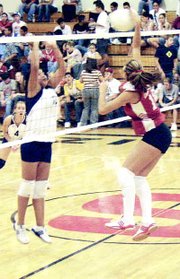 The Sunnyside High School girls volleyball team is officially off the snide.
The Lady Grizzlies, hosting Wapato last night, swept the Wolfpack in three straight games to score their first Mid-Valley League victory of the season.
Sunnyside (1-5) travels to West Valley this Saturday to try and make it two wins in a row. The Rams (4-1) upset previously unbeaten Selah (5-1) last night.
Lady Grizzly Coach Angel Carrizales is optimistic her club can defeat the Rams tomorrow, despite the stark contrast in win-loss records.
"The way our league is this year, with all the teams so even, it's whichever team shows up to play on any given night that is probably going to get the win," Carrizales said.
"We beat West Valley to close out our season last year. We're hoping last night's win against Wapato serves as a springboard when we go to West Valley on Saturday," Carrizales added.
It very well may...if the Lady Grizzlies can play as dominating volleyball as they did last night against the Wolves. Sunnyside was never pressed against visiting Wapato, as the home team rolled to relatively easy 25-12, 25-13, 25-18 victories.
Carrizales said her team took charge at the very beginning of the match. "And, we kept the momentum going, even in the third game when I put in my non-starters," she said.
"One of our goals going into last night's match was to sweep Wapato in three," Carrizales continued. That mission was accomplished, she explained, with some very strong hitting and some excellent serve-receive efforts from her back row players.
The one player who especially stood out in the back row was Vanessa Alvarez, who finished with a team high 11 digs for Sunnyside.
Carrizales said another key to last night's victory was Sunnyside's strong performance from the service line. She said in rally style volleyball, which the WIAA recently switched to, putting together service runs is paramount to finding success.
No one stepped up bigger from the service line in last night's opening game than senior Amy Amaro. "Amy had two big serving runs for us in the opener," said Carrizales, which resulted in Amaro notching 11 service points in the first contest. Also contributing heavily to Sunnyside's opening game victory was senior Becca Van Pelt, who had a run of six consecutive service points. Another of the Lady Grizzly seniors, Christy Linde, did her part in the first contest, too, dominating the net for Sunnyside. Linde scored four of her eight kills on the night in the opening 25-12 victory.
In game two, Erica Mendez and Kacee Jo Bootsma took their turns to shine from the service line. Bootsma tallied eight service points, coming on two different runs, and Mendez reeled off five consecutive service points for the winners in their 25-13 win.
The individual numbers were fairly well spread out in game three, when Carrizales got 12 of the 13 players on her bench into the line-up.
Overall for the night, Linde, Amaro and Jaymee Arevalo had the strongest numbers at the net. Linde finished with a club high eight kills, committing only one spiking error. Arevalo and Amaro each had four kills. Bootsma, the team's primary setter, totaled 15 assists last night.