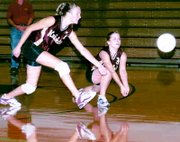 Never say die was the rallying cry for the Sunnyside Christian High School girls volleyball team this past Saturday.
Despite making too many service errors in the first two sets of the league match, the Lady Knights battled their way back to claim a 3-2 victory over Trout Lake.
Getting off to a slow start, the Lady Knights dropped the first two sets 25-17, 25-21. But then learning from their mistakes, the team turned around to claim the next three sets 25-14, 25-21 and 15-9.
"I was proud of the girls for stepping up when the chips were down," said Coach Andrea Dobson.
"We started serving the ball and moving. We started communicating, too," she added.
Using a winning combination at the net, the team blocked and spiked their way to the victory. Leading the Lady Knights in spikes was Chelsey Jones with 12 kills. She also make six digs and claimed four services aces.
Sunnyside Christian's Courtney Rice had six service aces, four kills and charged after eight digs.
Lady Knight Heather Van Wingerden dove for 10 digs, landed four spikes and claimed five service aces.
Abby Berkompas dove for six digs and make four kills, while the always ready Tori Van Wingerden dished up 20 assists. Rayann Van Beeks aided her team with two service aces and four digs.
Sunnyside Christian (2-2, 2-4) will travel to Riverside Christian tomorrow for league action.