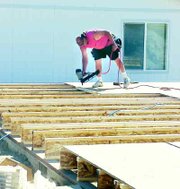 The name of the subdivision located off of West Madison Avenue brings to mind colorful flowers and green lawns, but instead of popping up blooms Larry Tadlock of Yakima is helping new houses spring to life in Jaquetta Gardens.
The subdivision, which consists of 20 lots, is going to be a mix of manufactured homes and stick-built homes, with the stick-built homes coming to life thanks to Tadlock and his crew.
In August, Tadlock was issued building, mechanical and plumbing permits from the Sunnyside Building Division for work on a new house being built at 1404 W. Madison Ave. The square footage of the house currently being built, according to the City of Sunnyside, is 1,196 square feet.
Tadlock said when he and the project developer, Don Violette of J&D Hansen, L.L.C, first got started with Jaquetta Gardens the plan was to create a subdivision of manufactured homes. But after two of the homes were placed, the men decided that it might be easier to sell the property with stick-built homes on them instead.
"We were planning on going with all manufactured homes, but it just worked out we had a little better luck selling stick built," Tadlock said.
However, instead of building 20 new homes, Tadlock said they decided to sell half of the lots to Central Washington Home Center, the manufactured home dealer located on Yakima Valley Highway in Sunnyside. He said they kept the rest of the lots and are slowly working to build and sell stick-built homes.
At this point, Tadlock said there are still seven of his lots left to be developed. He explained that he's building the homes slowly, selling one home before building the next.
Tadlock said the size of the homes being built in Jaquetta Gardens start at about 1,200 square feet and continue on from there. He added that if someone contacts them, wanting to have a house built in Jaquetta Gardens, he will work with them to design their home. Tadlock estimates the average cost of a home in the development to be $110,000.
Tadlock said it looks like the housing market is beginning to pick up in Sunnyside and he is excited to be a part of it.
Other projects that were issued permits by the city of Sunnyside in August include a single-family home being constructed at 1339 W. Grandview Ave. While there are homes going up in Sunnyside, last month several buildings came down. The Building Division issued three demolition permits during August for properties at 502 Victory Way, 224 E. Warehouse Ave. and 1441 S. Second St.
During August, the city's building division conducted 321 inspections and collected $8,230 in permit fees for projects with a total valuation of more than $400,000. The 55 permits issued included 30 building permits, 11 mechanical permits and seven plumbing permits, as well as two sewer connection fees, two water connection fees, two water meter permits and one public works permit for curb, gutter and sidewalk work.