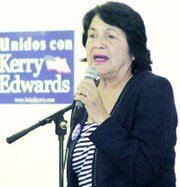 For Marisela Guzman of Toppenish, attending last Friday's public meeting in Sunnyside that was geared towards Latino voters was more of a curiosity.
The 18-year-old will be voting for the first time this November and she wants to make an informed decision, she said.
Flora Lucatero, 25, of Yakima traveled to Sunnyside just to hear Dolores Huerta speak.
"She's one of my heroes," said Lucatero. "I agree 100 percent with what she says."
Issues that concern both Guzman and Lucatero are education, health care and jobs.
Lucatero said the job issue is especially important to her since her father-in-law was laid off from the Goldendale aluminum plant after 25 years of service.
"That was partially because of Bush," said Lucatero.
The young women were among about 100 attending a dinner at Navarro's Community Center, where National Chair of Women for Kerry and United Farm Worker co-founder Dolorez Huerta spoke.
Huerta, who co-founded the UFW Union with Cesar Chavez, spoke in support of presidential candidate John Kerry.
Gabriel Portugal of the Washington Steering Committee for Latinos opened the evening's events by telling attendees there is power in the vote.
He compared voting to going to the store.
"The vote is like money," he said. "When you go to the store and buy tortillas, do you buy them because everybody else is or because you want and you need them?"
He said voting is the same way, explaining that you go to the poll to place your vote not for, who your friends vote for but for who you want and need.
"When we have Hispanic issues, we need to have Hispanic representation who knows what our needs are," said Portugal, adding that they shouldn't just vote Democrat.
"You want to see who is available, who you can purchase with your vote," he added.
State Rep. Phyllis Kenney introduced Huerta, but first said that Latinos of Washington state are important to this year's election.
"Latinos in Washington State know they can make a difference," said Kenney.
The Latinos for Kerry Committee was formed to help bring unified support to the presidential candidate, said Kenney, who added that it also brings the Latino community awareness of the differences between the two candidates and which ones are speaking for the Hispanic community.
Kenney introduced Huerta, an icon to farm workers across the United States, to the crowd.
Huerta is a civil rights leader, a parent, a grandparent and great-grandparent, said Kenney.
"She has played a major role in all our communities," said Kenney.
Arrested 22 times, Huerta was involved in the Delano Grape Strikes and helped pass the first laws protecting California farm worker rights. She was also instrumental in lobbing against federal guest worker programs and spearheaded legislation granting amnesty for farm workers who had lived, worked and paid taxes in the United States for many years, but were not able to enjoy the privileges of citizenship.
Kenney also noted that Huerta was one of three named the 1998 Ms. Magazine's "Women of the Year." She was also listed as one of the Ladies Home Journal's "100 Most Important Women of the 20th Century," and has been inducted into the National Women's Hall of Fame and has received the American Civil Liberties Union (ACLU) Roger Baldwin Medal of Liberty award.
With the crowd shouting "Viva Dolores," Huerta took the stage.
She introduced a group of Snokist strikers who were attending the Friday night event. Huerta encouraged those attending the meeting to support the strikers in their efforts.
"Cesar Chavez always said we need to continue the fight and never give up," said Huerta.
She said this year's election is important to the whole country.
In the war against terrorism, Huerta said that Bush's reasons for going to war were not valid.
"The message isn't clear," she said. "People are confused."
In recent months Huerta said Bush ads have been played on Spanish television.
"Oh, yeah, Bush loves Hispanics now," said Huerta.
"Bush's plan for immigration is not a good plan," she said. "The proposals Bush is making are not good for Latinos."
Huerta also criticized California Gov. Arnold Schwarzenegger for his refusal to increase minimum wage.
Not only in California, but nation-wide the number of people who are living in poverty has increased, said Huerta, adding that more than half of them are Latino.
"Bush does not care about poor people," said Huerta. She added that his immigration proposals aren't good enough.
"Anybody who comes and works and pays their taxes has the right to pursue their citizenship," said Huerta.
She said that Bush is making a lot of promises and has not created a single job, although many have lost their jobs.
"The secretary of labor is taking jobs to other countries. That's not good," said Huerta. "Jobs need to be here for Americans."
Another issue Huerta said is important is the financial aid issue.
"Financial aid is slowly going away," said Huerta. "Financial aid is not available for our students."
She said decisions made in the United State affect the world. Huerta said the big corporations receive big tax breaks.
"When everyone got taxes back that's nothing compared to what the corporations are getting back," said Huerta.
Health care is also an issue that concerns Huerta.
"How is it we are one of the most powerful countries in the world and we don't have health care for all the citizens?" questioned Huerta.
She said that Cuba is a small, poor country with a U.S. embargo and yet people have access to medical care.
"How is that possible?," she added.
Quoting Kerry, Huerta said, "All Americans should have the same health insurance that our congressmen and women have."
Huerta said that Republicans tell people that Democrats want big government while Republicans want small government.
"The only reason they want small government is because they want corporations to run the government," said Huerta. "Corporations want to privatize everything and it's going to affect everyone."
Huerta said that Republicans will tell farm workers that Democrats have no family values since most of them support gay marriage.
"I am a Catholic woman and I have really high morals and I have 11 children, but that doesn't mean everyone should have 11 children to have family values," she said.
"If two men get married how does it affect our pocketbooks," said Huerta. "It doesn't affect us, period. What affects us as a family is the pocketbook, which is affected by no jobs."
"Get out and vote," Huerta encouraged those at the rally. "We have a lot of power and we can do it."
More like this story