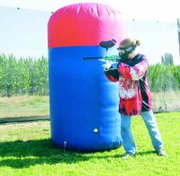 GRANDVIEW - Looking to get a start in one of the fastest growing extreme sports? Those interested in the sport of paintball can enter a tournament that will be held Saturday, Oct. 16, at the Grandview Nazarene Church paintball field.
"We wanted to give kids, or anyone, a place to come, play, meet people, fellowship and get off the streets," said Dr. Tim Thompson, one of the organizers of the tournament.
Since July the Grandview Nazarene Church has been developing a paintball tournament course on a large grassy field next to the church building.
The field is filled with large air-field bunkers and is surrounded by netting so spectators can watch without fear of being splattered by a stray paintball.
The upcoming tournament is designed to give those interested or new to the sport a chance to see what a real tournament is like, said Thompson. The tournament will be divided into two parts-a beginners division for those with less than three tournaments under their belt or less than a year's experience, and a division for those who have more than a year's experience or have participated in more than three tournaments.
"We want to introduce new people to the sport," said Thompson, adding that those interested can just come and watch to get more information on the sport. The tournament begins at 9 a.m.
"Paintball is played by 12 million people every year," said Thompson, who added that it is the most popular extreme sport behind snowboarding and skateboarding.
Mainstream Ministries, the high adventure youth ministry offered by the church, has set up the Oct. 16 competition like a professional tournament.
Teams of three have been signing up to participate in the event. Thompson said they have been signing up teams from Canada, Montana, Oregon, Idaho and Washington to participate in the event, which will have cash prizes.
"Half of the entry money will be going toward prizes," said Thompson.
Following the tournament there will be a barbecue and concert for those who would like to stay, Thompson added.
The day after the tournament, Sunday, Oct. 17, there will be a paintball clinic held at the church by professional paintball players.
The tournament is open to three-person teams.
"For people who don't have their own equipment there will be rentals available," said Thompson.
Anyone interested in participating in the tournament can call Thompson, 840-4313. Registration is due by Oct. 12. The tournament is limited to 40 teams. Twenty-five teams have already registered.