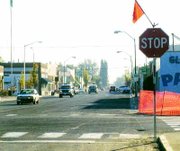 GRANDVIEW - Some Grandview residents woke up Sunday morning without electricity, thanks to a tractor-trailer accident that brought down the power lines at the intersection of Grandridge and West Second streets.
According to the Grandview Police Department, Sunday at 1:38 a.m. a semi-tractor with trailer, driven by Jesse Gamet of Toppenish, made a right turn from Grandridge Street onto West Second Street, turning too sharply and hitting a power pole and a fire hydrant at the intersection. Both the power and hydrant were in the parking lot of La Super Bakery. According to police, the tractor trailer traveled about 230 feet before coming to a complete stop.
When the tractor-trailer hit the power pole and toppled it, it also hooked the guy wires and eventually the vehicle pulled down all of the power poles and traffic lights in the intersection, causing the entire intersection to be shut down, police reported. The accident also created an eight-hour power outage in a portion of the community.
According to Grandview Police Chief Dave Charvet, the tractor trailer was coming from the corn processing plant on Grandridge Street with the driver attempting to go around the block, which would have meant turning on to West Second Street and again on Avenue A. Charvet said the driver did not have the authority to get in the truck and move it.
The driver of the tractor trailer was charged with a hit and run, and is under investigation for driving while intoxicated. Charvet explained that he was charged with a hit and run because once the driver hit the pole he continued to move through the intersection.
With the extensive damage to the intersection, it has been transformed into a four-way stop with stop signs having been placed on both Grandridge and West Second streets. Charvet said it could be awhile before the signal is replaced.