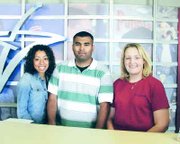 U.S. Cellular customers wishing to upgrade their service can now avoid long lines at the busy Sunnyside Mid Valley Mall cell phone service office.
This past Saturday, Totally Cellular, a company which deals exclusively with U.S. Cellular services, opened an agent store in at 2705 E. Lincoln Ave. near the Sunnyside Wal-Mart store.
"We now have four such agent stores in the Central Washington," said Nikki Glover, store manager.
Glover said the Lincoln Avenue U.S. Cellular store offers cell phone customers many of the same services they can receive at the company's mall store.
"We just don't take cash payments," she explained.
However, cell phone clients can drop off credit card or check payments at the Lincoln Avenue site.
The new store will be open seven days-a-week with shorter hours on the weekend.
"We'll be open from 9 a.m. to 8 p.m. Monday through Friday," Glover said.
The new U.S. Cellular service store employs four people, in addition to Glover.
She said she also manages three similar service stores in Yakima and Union Gap.