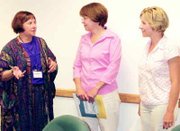 Where is the Sunnyside Chamber of Commerce headed in 2005? More importantly, how do Chamber members want the Chamber to aid them?
Those questions were asked of the small group of people attending the second Chamber business after-hours event held last night at Sunnyside WorkSource.
Following a tour of the state employment and training resource center, and a short presentation on small business estate planning, Chamber President Tom Gaulke polled the group about Chamber services and current promotions.
He said events such as the business after-hours are opportunities for Chamber and non-chamber members to network. "But it is also a good time to check the pulse of the organization, " Gaulke said.
He said the Chamber board of directors will be meeting Oct. 8 to begin setting 2005 and beyond Chamber strategies.
On the list of things to consider is the fate of the September Sunshine Days community celebration, as well as the direction the Chamber will take in providing other membership services.
"We have a lot of elephants in the room that no one is talking about," he said, referring to Sunshine Days.
This year's event, which was scaled back to one day, generated a lot of discussion concerning its future.
"We have a number of events which bring in a lot of tourists into our community, but typically Sunshine Days has been a community event," Gaulke explained.
Like many of the community events, such as the annual Cinco de Mayo Celebration and the December Lighted Farm Implement Parade, the Chamber has been a leading force in the organization of the activities in recent years.
"The Chamber board is looking at re-evaluating its place in community events, and we are considering placing more of the Chamber's efforts on business development and tourism-related events," Gaulke said.
"That is not to say the Chamber isn't concerned with continuing community events, like Sunshine Days," he said. "We have to look at how best to use our resources of staff and perhaps focus on those events that will draw in tourism," he said.
In the past, Sunshine Days was a time when the community celebrated the end of summer with merchants holding sidewalk sales. Local clubs and organizations set up fund-raising food and game booths, in addition to the Miss Sunnyside Pageant and Saturday morning parade. But in recent years, the participation by local groups has been displaced by the influx of outside food and novelty vendors. In previous years, the organization of Sunshine Days was handled by a separate committee, not directly connected to the Chamber.
"We need to get new people involved and we need their ideas," said Mary Lee Robinson, who along with her late husband were among those who organized Sunshine Days more than 30 years ago.
"We truly expected that the Yakima Valley Community Band, which performed at Centennial Square, would attract more than 20 people Saturday after the parade," said Kathy Corliss, the Chamber's director of tourism and promotions.
"That was very disappointing," she added.
"The message seems to be that the community doesn't want a September community event," Corliss said.
But Gaulke wants to know if hosting a community event, like Sunshine Days, is really the Chamber's mission. "Are events like Sunshine Days really the right thing for a Chamber to do?" he asked
"Should we, as leaders in the business community, be more concerned with promoting business and tourist-driven events which bring money and people into the community," he asked.
Gaulke said the Chamber board will be weighing the impact of Chamber events, which bring in 25,000 people to the community during some three-day events to those which only attract 500 people to the downtown.
"We may have to be considering different approaches," he said.
As to the Chamber's business after-hours event, those in attendance felt the social networking function should be continued.
Sunnyside businesswoman Ellen Phinney, who hosted the first after-hours event, said she has already benefited from the event's exposure.
"Since hosting the Chamber, more people are realizing we are a Thomas Kinkade gallery," she said.
"It was an eye opener for the community," she said. "We are getting more people from Sunnyside in to see us," she said.
Dorothy Bristow, director of WorkSource Sunnyside, said she was excited to have the Chamber tour the Mid Valley Mall office.
"We're here to help businesses with their employment and training needs. This event lets us show off what we have to offer," she said.
In addition to the agency tour, Jesse Hernandez of Waddell and Reed Financial Services provided the gathering with insights into the value of long range estate planning.
"Only 30 percent of all family businesses ever make it past the next generation," he told the group.
"Lack of planning for the possibility of death or debilitating injuries to the company leader is usually the cause for the closure of small businesses," he said.
"Estate planning can ensure your dream of being a business owner, being a legacy for your children," Hernandez said.
The next Chamber after-hours event will be held in late October and will be hosted by Horizons Inc., said Gaulke, who is the employment training agency executive director.