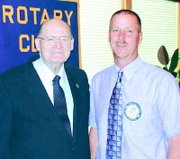 A history buff himself, Dr. Jack Hale spends a lot of time sharing tales about the late Roscoe Sheller, Sunnyside historian and early businessman.
"We were neighbors for 40 years and he always had a story to tell about one of his adventures," Hale said.
Hale, who has been a Sunnyside optometrist since 1950, shared his memories of Sunnyside's leading historian with the Sunnyside Noon Rotary Club members at Monday's luncheon meeting.
Hale remembers when Sheller wrote various books on Sunnyside, including Courage and Water, and Ben Snipes Northwest Cattle King. He said more needs to be done to preserve Sheller's place in the community's history.
After all, it was Sheller who collected and recounted the history of Sunnyside's pioneer days. Sheller was also responsible for publishing the first history of the Yakima Valley's irrigation project and its impact on the agricultural industry, Hale said.
Hale, who still lives next door to the old Sheller house near Park Avenue, said he is concerned that the house where the writer lived may not be saved.
"The contractor, who recently purchased it, told me his wife doesn't want to live there," Hale told the Rotarians.
"I'm worried it might not be saved," he said.
But why should that concern the Noon Rotarians?
"Sheller was the charter member of the Noon Rotary Club back in the mid-1920's. In addition, he was a long-time Sunnyside businessman and the original mover and shaker of community festivals, Hale told the club members.
"But nowhere in this town is there anything that serves to honor the man who wrote the history of Sunnyside in his books," Hale said.
While Hale didn't suggest the Noon Rotarians spearhead any effort to bring posthumous honor to the near legendary Sheller, he hinted that he thought that was a good idea.
"Sheller considered himself a missionary for Sunnyside," Hale said.
"He was always seeking ways to promote the town. He single- handedly encouraged the Ford Motor Company to bring the Great Cross Country Race of 1900 through Sunnyside on its way to Seattle," Hale said.
In addition, Sheller spent years researching and collecting tales about the early days of Sunnyside for his stories about early life in the Christian Cooperative Colony and the eventual development of the community.
"He was also a leader in the Rotarian organization, not only serving as the founding member of this club, but as its president. He eventually was a district governor for the club," Hale added.
"Sheller organized such events as Ford Days, and is the only person, in my memory, to ever have two life-time memberships in the Sunnyside Chamber of Commerce," Hale added.
"He broke the mold," Hale said of Sheller.
"It's just a shame there isn't some way to leave visible evidence of his impact on the community," Hale added.