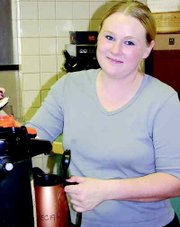 A move to Sunnyside has proven to be a great change of location for waitress Kristy Moore.
After serving breakfasts to customers in rainy Westport for most of her life, she is much happier serving eggs, Sunnyside up to her morning crowd at Sunnyside's Sunny Spot Restaurant, on Yakima Valley Highway.
The twentysomething woman, who grew up in Westport, said she gladly traded in her sweaters for tank tops to work in the much warmer Lower Valley.
Armed with a full coffeepot, the petite blonde demonstrates her expertise, moving quickly from customer to customer to take orders and satisfy the early morning curiosity of the regular group of diners. She makes it look easy to juggle multiple orders and menu requests. "I should," she said. "After all, I've been a waitress since I was 14," she explained.
"My mom has been a waitress for nearly 28 years," Moore said.
"I always told her I wanted to be just like her when I grew up," she added.
That was eight years ago. These days, with a year-old son to care for, Moore is contemplating going back to school to train for another occupation.
"But for now this pays the bills," she said.
"Besides, I like the people here. Restaurant owners Garry and Sue Hooks are great to work for," she said.
Since December, Moore has been getting up before the sun rises to start coffee for the morning rush of breakfast eaters.
"The restaurant opens at 6:30 a.m. and we have to have our water glasses and juices ready, in addition to the coffee," Moore said.
She said Westport, being a fishing town, has its busy season in the summer. "We seem to be a lot busier in the winter," Moore noted of the Sunnyside cafe.
But the advantage to working in Sunnyside, according to Moore, is that she sees not only her regular customers but a lot of new faces, as well. "That keeps the job interesting," she said.
Moore said she doesn't plan to move back to Westport anytime soon. "It's beautiful here and a lot warmer," she smiled.
"I love it here."