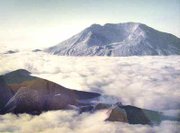 Mount St. Helens is waking up. After years of lying in rest, the giant mountain is beginning to show signs of life.
Wednesday, the levels of seismic activity being measured at the site prompted the United States Geological Survey (USGS) to increase the alert level at Mount St. Helens from alert level one to alert level two, a volcano advisory.
There are only three alert levels in the volcanic alert system. According to the USGS, a volcano advisory is issued when monitoring of a mountain indicates that "...processes are underway that have significant likelihood of culminating in hazardous volcanic activity, but when the evidence does not indicate that a life or property threatening event is imminent."
According to the Pacific Northwest Seismograph Network, this morning (Thursday) Mount St. Helens experienced a number of small earthquakes, with the largest registering at 3.3 on the Richter Scale. As late as 7:53 a.m. today a 3.1 magnitude quake was detected.
GSPS officials said during a press conference held this morning at the Cascades Volcano Observatory in Vancouver that seismic activity is being registered at Mount St. Helens every three or four minutes. The activity, so far, has been located near the lava dome.
In response to the GSPS issuing a volcano advisory, the Department of Natural Resources (DNR) closed trust lands within a 12-mile radius of the base of Mount St. Helens to the public.
The closure of these trust lands has meant that all DNR operations within that area have been shut down and both DNR personnel and contractors have been moved to outside that radius.
According to Janet Pearce with the DNR, the trust lands will remain closed until further notice.
"We are on standby," Pearce said. "We'll keep [the trust lands] closed until we are sure it's safe."
According to USGS officials, there is a good chance that an eruption could take place at Mount St. Helens in the next few days, though the seismic activity could continue with an eruption of some type not being seen for months.
USGS officials noted that the pattern of seismic activity being measured on Mount St. Helens is comparable to the activity that was seen prior to the 1984, 1985 and 1986 dome building eruptions. Officials added that it is different from what was seen prior to the May 1980 eruption, when seismic activity ramped up from nothing to the first recorded earthquake at a 3.2 magnitude.
Jon Major, a USGS official who spoke during this morning's press conference, explained that if a dome building eruption were to take place now it would be a rather benign event. However, he said if an eruption of some type happens after snow falls in the crater of the mountain it could lead to things like flooding and mud flows.