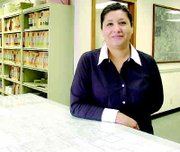 Since Elva Chumley was in high school she has been involved in one part of law enforcement or another.
As part of a program designed to give youths from low-income families jobs in the community, Chumley worked in the office of the Lower Valley Crisis Center. As her time at the center ended, a new placement opened up at the police department as a dispatcher, a job she said was offered to her.
In April of 1984, Chumley began working part-time for the police department helping people who came to the front counter and those who called in seeking police assistance during the weekend shifts. By that fall she was hired as a full-time employee of the city.
"The job was much easier when I didn't have children," said the self-proclaimed adrenaline junkie.
Now with three children ranging in ages from two to eight, the shift work got to be too much.
In January, Chumley moved from her cloistered spot at the Sunnyside Law and Justice Center to city hall, where she is working as a building permit technician for the city.
Still learning the ins and outs of the job, Chumley said the switch has been great for her and her family.
"Of course I miss the job," she said of dispatching. "It was always something different."
But as she learns about buildings and building codes, she finds that there is always something different in her new line of work as well.
When she really considered the move to the building department she said that having weekends and holidays off and sleeping at night were appealing.
"Sometimes my days off fell on a holiday and I'd have to work," she said.
In those cases, those working tried to help each other out so they could spend time with their families, but it was still difficult.
Chumley said she first looked at the Parks and Recreation assistant position that came open, but decided that wasn't something she wanted to do. But when the position in the building department opened up she applied.
"It was a spur of the moment kind of thing," she said.
In her new position with the city, she issues and processes building permits and issues new and renewed business licenses.
"I'll get calls from people saying things like, I'm trying to build a patio and I need to know if it meets code," said Chumley.
"I have to tell them, I don't know. I'm still learning," she said, adding that she finds someone in the office who knows.
A large portion of what Chumley is learning are all of the building codes, which are numerous.
But even with the added benefits of staying within the employment of the city, which includes not changing her insurance or retirement benefits, it was really her children that were the biggest factor in her leaving the police department.
"If I was sleeping I'd have a family member take them places," she said. Family also helped watch her children while she and her husband worked.
Chumley has not lost all her connections at the police department. Her husband is a patrol officer and she remains the certified marijuana technician for the department.
"The guys stop in and the biggest question I get is, 'When are you coming back'," said Chumley.
Although Chumley was dealing with numerous people at her job as a dispatcher, she said working for the building department she is working with the public even more.
The past several years with the police department, since the move to the law and justice center, dispatchers weren't the first face people coming into the building saw. Instead they are locked behind several doors in a room with no windows to the outside world.
"Now I see daylight," she said. "I'm also able to get up and move around."
Although it has been 20 years since she was in high school, her dream is still alive to one day become an accountant.
"I guess it's still a dream to go back to school," she said.
.