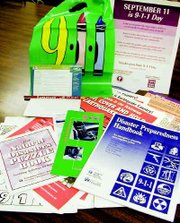 Would you know how to protect yourself and family if the Yakima Valley was hit by an earthquake of the magnitude of the one which hit the west coast of Indonesia this past Monday?
With the recent international natural disaster still fresh on people's minds, the state emergency management experts feel April is a good time to remind residents that planning saves lives.
As a result, the Washington Military Department's division of emergency management is planning its annual statewide earthquake drill to alert residents to quake dangers and what safety measures should be taken to save lives.
The drill be held Thursday, April 21, from 9:45 to 10 a.m. The "Drop, Cover and Hold" drill is being held as part of the state Emergency Management Division's annual observance of April as Disaster Preparedness Month, said Barbara Thurman, state emergency management's public education manager.
During the April 21 earthquake drill, radio and television broadcasters from across the state will transmit a message over the Emergency Alert System, urging all citizens to take appropriate earthquake safety actions, said Thurman.
"Schools, businesses and families are urged to take part in the practice drill," Thurman said.
According to the April 21 drill schedule, residents are to imagine that an earthquake is occurring. The safety procedure calls for people to seek cover under sturdy tables or desks, cover their head and to hold on to the desk until the all-clear signal is issued, said Thurman.
She said safety planning materials are available to assist schools, companies and families conduct their own drills. Residents are encouraged to visit the state emergency management division web site in order to download additional safety materials, she said.
Included in the state kit is a variety of materials, including a new comprehensive disaster preparedness handbook, which offers emergency planning schedules and response information, along with supply checklists, covering such disasters as volcano eruptions, tsunamis, windstorms and biological incidents.
The emergency planning materials are designed to assist Washington citizens in preparing for disasters before they strike, said Thurman.
The materials are available online at www.emd.wa.gov or by writing Washington Military Department, Emergency Management Division, Attn.: Barbara Thurman, Public Education Manager, MS: TA-20, Camp Murray, Wa. 98430-5122. or by calling her at (253) 512-7047.
.