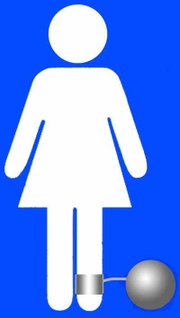 As big of a problem worldwide as women and children being sold into sexual slavery is, Sunnyside Det. Sgt. Joe Guillen is surprised there aren't more rumors of forced prostitution in the Yakima Valley.
Sister Mary Rita Rhode isn't surprised since those running illegal sex rings exploiting women and children are sneaky about their efforts.
Nearly 200 years ago slavery was a common practice that people talked about, but since the Civil War that has changed and slavery has gone underground and has expanded into an industry that sexually exploits women and children.
Each year as many as 50,000 women and young girls are believed to be the victims of sexual exploitation and child slavery in the United States, according to a study by the U.S. State Department.
Overseas the problem is more rampant, with as many as 4 million women and children from impoverished families forced into slavery.
Rhode, the director of Nuestra Casa, a Sisters of the Holy Names of Jesus and Mary charity, has been working to educate the women she serves about the problem of women and children being sold as sex slaves.
Nuestra Casa mostly works with monolingual Spanish speaking women living in the Lower Valley, many of whom are migrant farm workers.
The sisters are working to educate people on the problem of human trafficking worldwide.
Rhode said she often talks with women at her facility about sex trafficking, hoping to be able to find any underground activities in the Lower Valley.
"We really try to be aware because we have a lot of immigrants who participate in Nuestra Casa," said Rhode. "We try to keep our ears open listening for suspicions of people being held against their wishes."
Immigrants are usually the victims of elaborate ruses used to enslave women and children.
"The Yakima Valley is a high traffic area in drugs and often that goes hand in hand with sex trafficking, which is often less known," said Rhode. "One of the things that's so hard is it's so secretive."
Rhode added that those trafficking in the sale of women and children for sex base their dealings on fear, so it is difficult to help those in need.
"They use fear, such as needing to fear anyone in a uniform, so these woman and children don't contact police," said Rhode.
Most of the women and children trafficked come from poor countries, such as Asia, India and Mexico. Rhode said that women who are victims of sex crimes in the Yakima Valley are often brought up from Mexico.
In some of the larger West Coast cities such as Seattle and San Francisco, the women and children are mostly from Asian countries, she said.
"A lot of it goes on in island countries," said Rhode, who said her religious order is trying to help women around the world. "People go away to one of these islands for basically a sex tour."
Women and children are lured into these situations under false pretenses, said Rhode.
"Traffickers will meet poor people and say, we'll give you $100 if you give us your 9-year-old daughter," said Rhode.
Often the families are led to believe that the children will be working as a maid or domestic worker, but instead will be forced to have sex with multiple partners.
In the United States, Rhode said sometimes it is disguised as a mail-order bride deal, where men order women from poor countries.
"They basically become slaves when they get here," she said.
Rhode said there is currently educational efforts going on in other countries, mainly those where women and children are targeted as slaves.
"We want these parents to know that they shouldn't send their kids away," said Rhode.
In the United States, the educational efforts are geared to inform people to be wary of traveling overseas.
"The tourism industry is a big user of these women and children being trafficked for sexual exploitation," said Rhode.
She added that locally, it's also important to be aware of someone who is holding another person against their will.
.