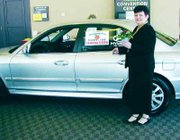 YAKIMA - Calling herself an idealist Pollyanna, the 2005 Washington State Teacher of the Year has reason to be happy.
Veteran English teacher Tamara Steen of Mabton is being honored as the state's education role model and now has brand new "wheels" to get her around the state to share her inspirational story with others.
This past Friday, Steen was awarded the year's use of a 2005 Hyundai Sonata, courtesy of the Yakima Bob Hall Hyundai dealership and the Spokane Auto Auction. The car was awarded to her to serve as a visible reminder of her dedication to the education of today's youth.
The presentation of the car keys to her silver chariot were made to the vivacious teacher at the annual Office of Public Instruction Collaboration Conference held at the Yakima Convention Center. Steen, a 20-plus year teaching veteran, was the state conference keynote speaker.
As a finalist in the National Teacher of the Year awards program, Steen shared her challenges as a teacher. She told the more than 200 educators attending the conference of her idealist picture of teaching as a first year educator.
She explained her ideals were nearly destroyed during a harrowing teaching experience in Los Angeles during the early 1970s. The experience was so bad, the now passionate educator took a 12-year sabbatical from teaching.
But her need to be a teacher overcame her fears and disappointments. In the early 1980s she tried entering the classroom again in yet another community where the challenges nearly wore her down.
Steen, who has taught in the Mabton School District since 1983, now describes her career as a passionate affair.
"I am as I began in this profession, an idealistic Pollyanna trying to make a difference in the world," she said.
"I have said so many times that to every child whose life we teachers touch, none of us is the teacher of the year, but we are each the teacher of a lifetime.
"What job could be better than that?" she concluded.