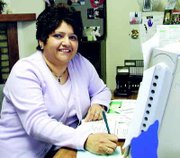 As a teenager, Rosalinda Alvarez didn't realize it wasn't OK for her boyfriend to be verbally abusive or to poke his finger in her face.
But one day, she stood up and decided she was going to make a change in her life. Now, the once, shy teenager is a passionate advocate for the rights of women
"I never again let anyone abuse me," she said. It's that kind of determination and courage which Alvaraez now uses in her career as an advocate for other women wanting to break the chain of domestic abuse.
"I want to help others know they don't have to suffer in silence," Alvarez said.
"Women don't deserve to be abused and they are not alone. We are here to help," said the Lower Valley Crisis and Support Services domestic violence counselor.
Alvarez's job is an outgrowth of her desire to help Hispanic women break free of the violence that often affects generations of females.
"Many women don't know that there is help available to stop the violence," said Alvarez.
"But we need more bilingual women to step up and become advocates for other women in the community," she said.
She said currently the crisis center, which is headquartered in Sunnyside, is offering advocate training classes. The six-week course provides training in the legalities surrounding domestic and sexual assault violence.
"We have lawyers, nurses, police officers and state domestic violence experts speak to our future advocates," she said.
The current advocate training session will be completed in early May, but Alvarez encourages interested women and men who want to volunteer as advocates to contact the center, at 837-6689. She also encourages persons to take part in a community sexual assault meeting being sponsored by the center. Tuesday, April 19, the center will host a public forum at the Sunnyside Community Center to discuss specialized services available to sexual assault survivors.
Alvarez said the center is trying to identify the under-served populations in the center service area, which extends from Union Gap to Prosser.
"We want to fill the gaps in our services in order to determine how we can expand our services in the future," she explained.
She said the 9 to 11 a.m. community forum will accept input from community members. In the meantime, Alvarez said the center is working to promote Rape Awareness Week, which is observed April 11-15.
When Alvarez isn't working as a domestic violence counselor, she volunteers her time with the Sunnyside Miss Cinco de Mayo Pageant Committee.
"We have 18 young women vying for the 2005-06 title," she said.
Her daughter, Amy Rubio, a former Miss Cinco De Mayo, is aiding her with this year's event, which will be held April 27 at the Sunnyside High School auditorium.
Alvarez said her husband, Rolando, who is a Sunnyside Planning commissioner, is also active in the pageant program.
"We love being involved," she said, adding that her son, Anthony, is also a part of the pageant planning team.
"We love working with the young women, helping them to make a positive impact on their community," she said.