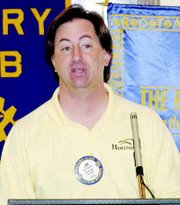 It's really just a formality, but one that the Sunnyside Noon Rotary Club delighted in undertaking this past Monday.
The 30-member club of professionals approved the election of Tom Gaulke as its next president during its annual club assembly.
"We really don't have assemblies very often," said outgoing club president Greg Visser.
"But it is a necessary part of our by-laws and fun," Visser explained.
Gaulke, who is the executive director of Horizons of Sunnyside, a job training agency, will begin his two-year term as president later this year.
Serving with him as president-elect will be Mona Tovar, who is the office manager at DeLorie and Johnson Law Offices. Re-elected as secretary-treasurer is Julie Schilperoort, a Sunnyside public accountant.
The 2005-06 Noon Rotary Board of Directors will include Gaulke, Tovar, Schilperoort and Visser, along with Jim Grubenhoff, Michelle Booth, Jim Trull, Robert Crumm, Jim Kassebaum, Bill Daley and Rick Cole.
The Noon Rotary Club meets each Monday at Snipes Mountain Brewery and Restaurant.