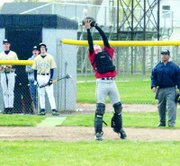 What a stark difference a couple of days can make. One might never guess that the Sunnyside High School baseball team that took to the field yesterday at home against Rochester was the same group of players that let victory slip through their fingers this past Saturday at Selah.
With very few exceptions, Tuesday afternoon's outing for the Grizzlies was solid from beginning to end.
Sunnyside plated four runs in the top of the fifth to come away with a 7-3 victory over the Warriors.
"We did a decent job," said Sunnyside Coach Dave Martinez.
Errors bogged down the Grizzlies' outing last weekend, but yesterday Sunnyside's nine looked pretty dang solid, playing error free baseball.
"The error free baseball was the thing (that counted yesterday)," said Martinez. "We are capable of playing that way."
The Grizzlies also received a decent effort from its pitching staff. Sunnyside used Frankie Galvez, Timmy Briones and Joel Zakahi. The three pitchers together had an efficient outing, needing only 85 pitches total. Of those 85 pitches, 56 of them belonged to Galvez, who was pitching for the first time ever at the varsity level.
"He did what we wanted him to do," said Martinez.
Galvez had some solid moments on the mound in his three innings of work, allowing just six hits and fanning a pair of batters. He also had two walks. The only three runs Rochester scored, which came in the top of the second, were off Galvez. Briones got the win in relief, going two innings while allowing just one hit. Zakahi allowed just one hit in two innings of work.
The Grizzlies looked sharp to open the game, plating three runs in the bottom of the third off a shaky Rochester pitcher. But the Warrior hurler was able to calm down and for the most part kept the Grizzly bats at bay for the next few innings.
Sunnyside's big inning came in the bottom of the fifth, when the Grizzlies scored four runs. Derek Uberuaga singled and then teammate Eric Crimp reached base off an error. Zakahi ripped a single to plate Uberuaga. Tyler Esqueda then laid down a bunt, but Rochester threw the ball away, allowing Crimp to score from second. Zakahi and Esqueda later scored off passed balls.
Cole Boboth had another outstanding day at the plate for the Grizzlies, going 2-for-3. Zakahi also swung a solid bat for Sunnyside, finishing 2-for-3, as well.
But yesterday was not without issues for the Grizzlies, most notably some baserunning mistakes that cost Sunnyside some runs.
"Those are things we have to continue to get better at," said Martinez.
The Grizzlies also had trouble putting together hits when they needed them. Sunnyside left the bases loaded in the first inning and failed to advance runners in several other innings, as well.
"When we get runners at second and third we need to be able to come up with those big hits," said Martinez.
The Grizzlies (0-2, 3-5) were scheduled to play Rochester again this morning (Wednesday). Sunnyside returns to Mid-Valley League play this coming Saturday at home against West Valley.
Michael Kantman/Daily Sun News