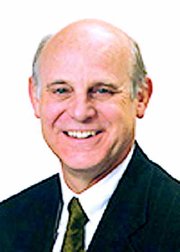 OLYMPIA - An Oregon bureaucrat described as being a "consummate manager" has been pegged to head the Washington Labor and Industries Department.
Gov. Christine Gregoire announced Tuesday she has named Gary K. Weeks as director of the department, which oversees the state's workers' compensation insurance system.
Weeks, who is currently the director of the Oregon Department of Human Services, has a long history of working in Oregon state government, said Dave Weston, the publisher of the Polk County Itemizer-Observer, a Oregon weekly newspaper located in Dallas, Ore. near the Oregon state capital.
"Weeks has a reputation getting business done," said Weston.
"His name has never been a topic of concern," said Weston, echoing comments from Oregon Governor Teed Kulongoski, who has called Weeks an asset.
Gregoire said her top criteria in searching for a new L&I director was management skills.
"Weeks is the consummate manager who can tackle some of the difficult issues at L&I, whether that's making the vocational rehabilitation programs work as efficiently as possible or improving the timely processing of claims," said Gregoire.
As the new director of L&I, Weeks will also oversee the state's workplace and safety and health programs through the state's WISHA (Washington Industrial Safety and Health Act) division.
As the director of the Oregon DHS, Weeks currently oversees the Oregon's largest state agency, which employs 9,500 people and has a budget of $9.5 billion. He previously was the director of Oregon's Government Operations Department, which manages all state government.
Weeks also worked with the Annie E. Casey Strategic Consulting Group, which assists states, counties and cities with the reform of public human service systems. The group's consultants often are called in when there are significant management challenges, particularly in child welfare and juvenile justice.
From 1991 to 1993, Weeks was director of the Oregon Department of Consumer and Business Services and, as such, held the title of insurance commissioner and banking superintendent. Among other things, the agency was responsible for worker protection under the Occupational Safety and Health Administration (OSHA) and for implementing reform of the workers' compensation system.
Gregoire said she is hoping Weeks will be able to build bridges between state, business and labor to solve employment issues.
Weston said Weeks has been around Oregon government for many years and he has worked for a number of Democratic Oregon governors. I've never seen his named as a topic of concern, which is to his credit," said Weston.
"I want to thank Governor Gregoire for this opportunity," said Weeks. "I am committed to working closely with business and labor to improve the quality and efficiency of service at the Department of Labor and Industries. I'm looking forward to applying my experiences and skills to the issues facing L&I," he said.
Gregoire has also reappointed Valoria Loveland as the director of the state Department of Agriculture, a position she has held since 2002.
In reappointing Loveland as director of the agriculture department, Gregoire said her office conducted an extensive search for a leader.
"Her roots are firmly planted in the farming community of Eastern Washington. It's important to me that our ag director comes from the agriculture community and has a thorough knowledge about the needs and economy of the state, particularly east of the mountains," said Gregoire.