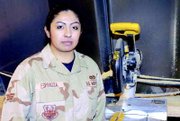 MANAS AIR BASE - Most people avoid living in a town where shoppers regularly empty convenience store shelves, where table space at the only kitchen in town is frequently at a premium and guests must sleep in warehouses when tent space runs out.
But the daughter of a Sunnyside couple overcomes this chaos and more while serving her country at this isolated camp. Specifically, it's Manus Air Base in the Kyrgyz Republic, where waves of troops are accommodated like long-lost family when they show up for their connecting flights to and from deployment to Iraq and Afghanistan.
Air Force Senior Airman Barbarita N. Espinoza, daughter of Lorenzo and Manuela Espinoza of Sunnyside, is on duty as a structural journeyman at the air base that has become one of the busiest in the region.
"I'm one of the civil engineers who erect and maintain structures on the base, so that people can work and live," said Espinoza, a 2001 graduate of Sunnyside High School. "My duties consist of carpentry, welding, sheet metal and masonry. My work pace is high and the temperatures I've been working in are below freezing."
Espinoza and her fellow airmen at Manas also help needy neighbors in a predominately-Islamic surrounding community of more than one million people, a subject that hits close to Espinoza's heart.
"I'm a volunteer with our outreach group. We deliver donated clothing and toys to orphanages. I volunteer time to make the repairs on orphanages that make children's living areas more comfortable," Espinoza said. "I also take part in a children's carnival at another orphanage in the downtown area. Some candy and a smile go a long way with a child who has nothing."
The air base where Espinoza temporarily lives can be a noisy and hectic place-the military's version of O'Hare Airport at rush hour. She said both the pace and hardships can be hard to manage at times.
"More than 1,500 soldiers checked in and overloaded our sleeping arrangements, shower and dining facilities," Espinoza recalls. "Many personnel slept in our gym, recreation centers and maintenance facilities."
Service members are deployed to work at the base for four-to-six month stretches, but most say their brief stint is worth the effort.
"I'm here to support all of those going further to fight the war on terror," commented Espinoza.
Espinoza and the other troops stationed at the base expect more soldiers to clear their grocery store shelves of candy bars as they arrive by the planeload this year. But even with thousands of soldiers flying in and out of Manas from Iraq and Afghanistan with their duffel bags this spring, Espinoza says there will always be a vacancy sign, a welcome mat and a light left on.
• Article provided by Army and Air Force Hometown News Service, San Antonio, Texas.