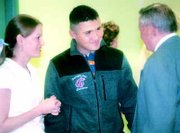 GRANDVIEW - When 23-year-old Nick Ortiz signed up for the Washington Army National Guard, "the war against terror" didn't exist. Saddam Hussain was the dictator of Iraq and the name Osama bin Laden wasn't known by most in the free world.
Shortly after signing up in March 2001, the September 11th bombings occurred. Up until then Ortiz thought he would stay at home and put in his time serving in the National Guard, earning money for college.
"I went to college for a year and then I joined the National Guard," said Ortiz.
In November 2003 his unit was called up to prepare to be deployed to Iraq. Last month, after 11-1/2 months in Baghdad, he returned home from his time overseas and is ready to resume his life. His family and friends celebrated his return home this past weekend with a luncheon in his honor.
With endless opportunities on the horizon, there are three big ones within his reach. Ortiz will be resuming classes at Washington State University next month to take some of the final classes he needs to graduate. He will graduate at the end of the fall semester.
"I applied while I was in Baghdad," said Ortiz. "Last week I went to meet with my counselors and get my housing situated."
All of the classes Ortiz needs to graduate are offered at the same time this fall, so he will take two classes this summer so he can graduate at the end of the fall semester.
Ortiz is farther ahead than some with whom he served in Iraq. Rather than pulling out of his classes and having his money returned, Ortiz spoke with his teachers and was able to earn a grade for the 18 credits he was taking.
"Whatever grade I had when I left is what I got for a grade in the class. I should have taken all my hard classes," he joked.
His second big decision since returning home? He recently applied to attend the Washington State Patrol Academy in Olympia and will be going through the first of eight steps in the hiring process on Saturday.
Finally, he is getting married to his girlfriend of 2-1/2 years, Jennifer Weenink. He proposed last November while he was home on leave. The wedding is set for this coming June 25. Weenink is already a trooper cadet at the State Patrol Academy.
"We were supposed to graduate together, but I got pulled away," said Ortiz, who pointed out that about half the time they have been dating he was in active duty and overseas. "She's ahead of me so I've got to catch up."
For about two years Ortiz has been considering a career in law enforcement, but is wasn't until he returned from his tour that he was able to act on his career goals.
With his future wife at the academy and him attending WSU, Ortiz said he won't be able to see his new wife much this fall.
"I'll go to Olympia on the weekends," he said.
Home for a month before returning to Pullman to begin classes, Ortiz is relaxing at home watching baseball.
"I'm ready to finish school and get my career started," he said.
Ortiz will remain a member of the Washington Army National Guard until 2007. He doesn't anticipate being sent overseas again any time soon.