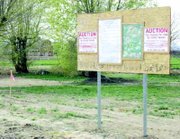 Yakima County officials will be auctioning off two pieces of property on Thursday, April 14, at 10 a.m.
One of the pieces of property is in the Sunnyside area, located on Midvale Road just across from the Van de Graaf ranches' main entrance. The other piece of property to be auctioned off is at the former Tampico drop box site on Ahtanum Road.
Yakima County Department of Public Services Administrative Supervisor and Public Information Officer Lisa Freund said the property near Van de Graaf ranches was purchased by the county as part of a right-of-way acquisition to make improvements to the Midvale and Bishop roads area in the fall of 2002. The county is auctioning off the remaining land from the acquisition, which is 3.32 acres in size. Freund said the county did remove some homes from the property when it purchased the land.
The parcel number for the Midvale Road property is 220911-14403. The minimum bid for the land is $16,700.
The county has owned the other piece of property being auctioned on Ahtanum Road since 1985. Freund said the land was used by Yakima County's solid waste division. The solid waste division operated a drop box site program at the spot, which has since been eliminated.
Freund said the land is 4.13 acres in size.
The parcel number for the Ahtanum Road site is 161217-23405. The minimum bid for the Ahtanum Road property is $25,250.
The auction will be conducted on April 14 in room B33, which is the county commissioners hearing room at the Yakima County Courthouse. Successful bidders must deposit 10 percent of the minimum bid amount or $1,000, whichever is higher. The successful bidder must pay the remaining balance of the purchase price no later than 4 p.m. on Thursday, May 5. The properties are being sold as is.
"This is pretty common," said Freund of the auction process.