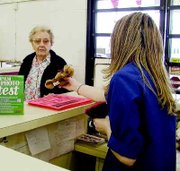 Rather than being buzzed into the members-only Sunnyside Bi-Mart store Thursday, everyone was able to walk in and enjoy the benefits of the store's competitive prices during the first of several days celebrating the company's 50th anniversary.
Offering non-members a chance to visit the store is just one of the things all of the Bi-Mart stores are offering as part of an open house celebration this coming weekend.
Thursday kicked off a weekend of special events at the Sunnyside store. Free teddy bears were given to those entering the store, while supplies lasted. A radio station also broadcast live from the store Thursday afternoon.
Today (Friday) through Sunday, the store is holding a sidewalk sale and a special hotdog and pop sale.
Store Manager Michele Ross-Stickley said local people with 1950s cars are invited to bring their vehicles to the store this weekend. Several local members plan to have their cars displayed in the store parking lot as part of the event. She added that some of the employees have decided to dress in 1950s clothes as part of the festivities.
"We're also giving away a lot of free things," said Stickley.
The store will have numerous give-aways and samples for their customers.
Next Tuesday, she added, customers with the correct lucky number will receive a free disposable camera.
Besides in-store give-aways, Pepsi is sponsoring a trip give-away. Customers can sign up to win one of five trips to Las Vegas, said Stickley.
The employee-owned and operated retailer, which was founded in Yakima in 1955, is holding several celebrations throughout the year to honor the Pacific Northwest based company. This weekend is just the first of several special events planned at the local Bi-Mart store. Stickley said the company will also be celebrating 50 years of business with big events Memorial Day weekend, around the Fourth of July and at the end of the summer.
"We'll have events all summer long," she said. "It's going to be a good time."
The Sunnyside Bi-Mart store opened in 1987. Stickley, who has been with the store since the day it opened, said that locally the store currently employs more than 40 people. Bi-Mart, which is now headquartered in Eugene, Ore., has 64 stores through out Oregon, Eastern Washington and Montana. Currently, the store has more than a million members.