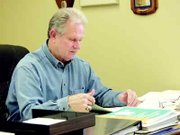 If there is one thing that Sunnyside City Manager Bob Stockwell understands about municipal government, it is sometimes one has to stick their neck out to get things done. And in the past year, Stockwell has certainly stuck his neck out.
Stockwell, 58, will be celebrating his one-year anniversary as Sunnyside city manager on Tuesday, April 12.
In the past year, the city manager has reduced the staff at city hall, negotiated the purchase of Monson feedlot just outside of Sunnyside, had a series of signs come up on South First Street opposing his efforts as city manager and has made an effort to privatize the city's water and wastewater services. Stockwell has even challenged Yakima County officials on the way they presented the criminal justice sales tax to voters, citing a need to make the tax long term, not for just six years.
Stockwell came to Sunnyside from Provo, Utah after a four-month search by the Sunnyside City Council to find a new city manager following the resignation of Dave Fonfara.
Stockwell brought with him a wealth of municipal government experience, including stops as city manager in Alamogordo, New Mexico and Provo. A community of some 115,000 people, Provo is the largest city Stockwell has worked at as a city administrator.
Stockwell left his position in Provo to go into a private venture with a telecommunications company.
"It failed miserably," grinned Stockwell.
Undaunted, Stockwell went back on the municipal administrative job circuit and applied for several positions.
Stockwell said as he went through numerous interviews, being a finalist in several communities, he started to think that he would like to work in a smaller community to put to use his vast expertise.
"I wanted to spend the remainder of my career helping communities (that) could benefit," said Stockwell. "I decided to broaden my search to smaller communities. The strange thing is I didn't get very many calls back."
Stockwell said the calls he did get back were from people wondering what was wrong with him and why he was applying to work in a small community when he had so much experience.
Stockwell smiled about how he came across the position in Sunnyside. Stockwell said he was e-mailed the job position through an acquaintance of a friend. Stockwell said via the Internet he researched Sunnyside before finally deciding it was something he wanted to pursue.
"I feel like it was the right choice," said Stockwell.
Stockwell said he saw in Sunnyside the ability to capture and grow on what was already being done in a positive manner. Stockwell said he felt he could provide a fresh look to addressing the issues Sunnyside was facing.
Stockwell said he also was impressed with the City Council and how its members wanted to address issues.
"In the discussions with the Council it seemed to me this was a group that was willing to try something (new)," said Stockwell.
One of the major accomplishments Stockwell is proud of during his honeymoon year has been putting the final touches on the Monson feedlot purchase.
"Being able to finalize the transaction with Monson feedlot is one I think that speaks highly of the community," said Stockwell. "It (the purchase of the feedlot) was a matter of finishing it for me. It was clearly a win-win situation."
Stockwell gives a lot of credit for what happened to Arvid Monson and his family.
"They recognized it was time to do something," said Stockwell.
Some of the issues Stockwell wants to address in the coming years deals with housing.
"Our housing stock has gotten very old," said Stockwell.
Stockwell said he would like to see the community working on building homes with the type of mindset that allows people to move from owning a starter home to a more higher priced home. Stockwell said he would also like to see the community focus more on executive style housing, which will entice companies to move their personnel into Sunnyside. Stockwell said it is important for the community to be able to address housing in a responsible way.
Over the past year, Stockwell has tackled numerous issues head-on, including having to let go of several long-time city staff members. He also brought about discussions on privatizing the city's water and sewer services.
"I have a natural inclination to not want to stand still," quipped Stockwell of why he tackles issues straight on. "What I like is being involved in something. City managers have big egos. City managers think they can do it all."
Stockwell said he fully knows his role as city manager.
"The job of the city manager is to assist the city council," said Stockwell. "You don't get any recognition in this job and you shouldn't. You have to be driven by something else."
Stockwell said one of the personal enjoyments for him is going back to communities he has worked in and looking at what was accomplished. Stockwell said he enjoys seeing the growth that he was part of in other communities.
Stockwell said his life is a lot different from his friends' and people who work in the private sector. Stockwell said in the private sector, people judge their success by their portfolio.
"The rewards in this business (city government) are not financial," said Stockwell. "They are tangible."
Stockwell said he looks forward to building on the tangibles in Sunnyside in the coming years.
"I think it is possible for us to do some things," said Stockwell.
When Stockwell came here he said the initial thing he looked at was the people who work for the city.
"What was needed (in the city) was the ability to identify the individuals in the organization," said Stockwell.
Stockwell said he wanted to identify the individuals who were willing to work with him to move the city forward.
"I like to release people from the impediments that have held them back," said Stockwell. "My job is to help develop the collective vision of where we are going to go."
Stockwell said when he came aboard, the city had too many employees and not enough money in city coffers. He said this is the reason that for many years none of the problems the city faced could really be addressed. He said the city needed to be able to look at what was really needed within to keep the organization operational.
The most difficult part of the last year for Stockwell has been dealing with personnel issues.
"We are trimming the organization down to what we can afford," said Stockwell.
By having more people than you can afford you have to let some things go. Fewer people can get more done if we have the right tools."
Stockwell said personnel issues are hard for him to deal with because they affect people's lives directly.
Having to deal with employee discipline issues is another matter that has been difficult, said Stockwell. He said, though, one of the biggest mistakes an organization can do is keep people who don't want to change for the better.
"My first step is to always work with people who have had problems," said Stockwell.
One of the major issues that Stockwell will be remembered for in his first year is addressing the matter of privatizing the city's water and wastewater services, an issue that ended up being bagged after several months of discussions because of budget calculation mistakes.
"We needed to go through the exercise," said Stockwell. "We learned some things through that process."
Stockwell said even though the privatization issue didn't go through it was good for the community because it was something that had been on everyone's mind for some time.
"It is over," said Stockwell. "It is not something we will revisit."
Another change that has been made, besides personnel changes, has been switching the operations of city hall from five days per week to four. The four-day work week has meant changing the hours of operation from 7:30 a.m. to 6 p.m., which has gone well, said Stockwell.
Stockwell said he felt like Sunnyside was his home less than a month into his job. Stockwell said he has been impressed with how the community has taken him in.
"I have never been made to feel like an outsider," said Stockwell.
Stockwell said he has developed a good working relationship with such people as Yakima County Commissioner Jesse Palacios and Grandview City Administrator Jim Sewell. Stockwell also feels he has developed a strong working relationship with the Port of Sunnyside and Sunnyside School District representatives.
While his first year has been filled with plenty of exciting moments, Stockwell is only looking forward.
"Most of what has been done this year is building a foundation that will help with the growth of this community," said Stockwell. "This year has been about getting the city's financial house in order."
And to his critics, Stockwell encourages them to voice their opinion.
"I appreciate your input," said Stockwell. "I learn from the criticism."
But Stockwell also encourages his critics to become involved with what is going on in the city.
Stockwell said he has yet to regret accepting the job 365 days ago and looks forward to many more years in Sunnyside.
"It was the right thing for me," said Stockwell. "I certainly hope it was the right thing for the community."