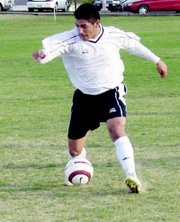 GRANDVIEW - The Grandview High School boys soccer team entered spring break on a down note, having lost 2-0 to Selah in a non-league game. The Greyhounds, though, must have had a good week off because they annihilated visiting Deer Park this past Friday night.
The Greyhounds won 6-1 over visiting Deer Park, scoring four goals in the first half.
"We played really well," said Grandview Coach Anne Holden. "We just played relaxed for the first time in a long time. We were confident."
Rigo Guerrero scored the first of his two goals for the Greyhounds 24 seconds into the game. The first goal came off an assist from Jesus Soto. Guerrero then scored at the 22nd minute of the first half off an assist from Abel Aguilera. The second goal of the first half was scored by Steve Jacobo off an assist from Soto. Soto scored the final goal of the first half on a penalty kick at the 40th minute.
With a comfortable 4-0 lead, the second half belonged to Grandview's Jose Saldana. Saldana scored at the 43rd minute off an assist from Aguilera and then again an unassisted goal at the 60th minute.
Deer Park got its only goal of the game at the 63rd minute.
The statistics tell just how dominating Grandview was in Friday's game. Holden kept two different stats for shots on goal. One was shots directly on the keeper and the second was shots that were in the vicinity of the goal. Grandview had 17 direct shots on goal in Friday's game, nine of which came in the second half. Deer Park had only four shots on goal, making for a quiet night for Greyhound keeper Manuel Herrera, who had three saves.
Holden admitted she was surprised by her team on Friday, saying she didn't know if it was due to a relaxing spring break or what. Holden, though, was extremely happy with the effort she received.
Grandview (2-1, 3-4) will host Othello this Tuesday night.