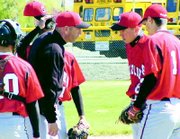 The lesson learned this past Saturday by the Sunnyside High School baseball team is that if the Grizzlies want to be a playoff contender, then they better start acting the part.
The Grizzlies were butted around by the West Valley Rams this past Saturday, dropping both games of a doubleheader in miserable fashion.
West Valley won the opener 13-2, finishing off the nightcap with a five-inning 15-5 victory.
"We didn't play solid defense," said Sunnyside Coach Dave Martinez.
Despite the lowly effort by Sunnyside, the Grizzlies were, in their defense, without ace Derek Uberuaga, who injured his shoulder sliding into home last Tuesday against Rochester.
While fans in the stands on Saturday probably got a look at the future Mid-Valley League champions in West Valley, Sunnyside sure did its part to bolster the Rams' confidence.
"We sure made them look good," admitted Martinez.
West Valley won the game behind solid hitting, ripping out a combined 26 hits in the doubleheader.
"West Valley is a good hitting team," said Martinez.
But the Rams were also able to take advantage of six Sunnyside errors in both games.
Saturday's game was similar to a debacle the Grizzlies had against Selah to kick off Mid-Valley League play.
"Our four worst games (this season) have been against Selah and West Valley," said Martinez.
Tyler Cullen had a good outing on the mound in the opener, but didn't get much help defensively. Of the six runs charged to Cullen in four innings of work, only one was earned.
"Tyler pitched well," said Martinez.
The rest of the Grizzly bullpen got lambasted. Timmy Briones gave up seven earned runs in one inning of work, including a pair of home runs by the same West Valley player.
Frankie Galvez didn't give up a run in his one inning of work, allowing only one hit. The problem for Galvez was he hit a couple of batters.
Sunnyside was able to make some contact with the ball at the plate, collecting six hits, but the Grizzlies weren't able to manufacture hardly any runs. Sunnyside left seven runners on base in the opener.
Despite the shoulder injury, Uberuaga was able to DH for the Grizzlies, scoring both of Sunnyside's runs. Uberuaga scored off a sac fly from Tyler Esqueda in the fourth inning. Sunnyside's other run came in the sixth when Eric Crimp put up a sac fly to plate Uberuaga.
The big inning for the Rams was a four-run fifth, which West Valley used to complement three-run spots in the third and sixth innings.
The nightcap was a nightmare for one of Sunnyside's ace pitchers, Joel Zakahi. Zakahi simply had an off day, allowing nine runs in only one inning of work. Martinez said it was just a bad outing for the Grizzly hurler.
"Joel is a much better pitcher," said Martinez.
Cole Boboth provided about the only bright spot for the Grizzly bullpen. In his first outing of the season, Boboth allowed four hits and one walk in two innings.
In the second game, the Grizzlies had seven hits at the plate, led by Pete Marquez and Cullen, both of whom went 2-for-2.
The Rams busted the game open with a seven-run burst in the second inning.
Sunnyside did have a good outing in the third, scoring four runs. The Grizzlies loaded the bases following singles by Cullen and Esqueda and a walk to Briones. Marquez then ripped a base hit to plate Esqueda, which was followed by a two-run double from Chris Newberry. Marquez then scored off a passed ball.
Sunnyside stranded four baserunners in the second game.
"We practice these situations," said Martinez of the mistakes the Grizzlies committed in Saturday's game. "They know what to do. It is just a matter of applying what they know."
The Grizzlies (0-4, 4-7) will host Ellensburg in a twin league bill this coming Saturday.
1 2 3 4 5 6 T H E
WV 0 2 3 1 4 3 13 12 1
Sunnyside 0 0 0 1 0 1 2 6 4
Pitching-Tyler Cullen six hits, one strike out in four innings. Timmy Briones five hits, two walks in one inning. Frankie Galvez one hit in one inning.
Hitting-Tyler Esqueda 1-for-2 with a sac fly in the fourth inning. Joel Zakahi 3-for-3. Derek Uberuaga 1-for-3 with a double in the sixth inning. Pete Marquez 1-for-3. Eric Crimp had a sacrifice fly in the sixth inning.
1 2 3 4 5 T H E
WV 2 7 3 3 0 15 14 0
Sunnyside 0 0 4 0 1 5 5 7 2
Pitching-Joel Zakahi six hits, one walk in one inning. Austin Arevalo four hits, one walk in two innings. Cole Boboth four hits, one walk in two innings.
Hitting-Tyler Esqueda 1-for-1. Timmy Briones 1-for-1. Pete Marquez 2-for-2. Tyler Cullen 2-for-2. Chris Newberry 1-for-3 with a double in the third inning.