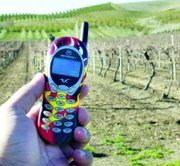 Farmers, who must daily check weather reports for the current frost conditions and water availability, are the fastest segment of the population to adopt the use of cell phones.
In fact, according to Successful Farming Magazine, more than 75 percent of American farmers now have a cell phone as a means of communication. That number is 10 percent higher than the general population and with good reason.
It helps to have a cell phone out on the farm, said Sunnyside farmer Carl Kilian, who uses his cell phone to stay in touch with his family while checking his farm lands scattered throughout the Lower Valley.
Kilian is just one of the many farmers who are finding that cell phones help to make it possible to access such technologies as Accuweather, a weather reporting program which gives up-to-date weather conditions.
"Farmers like the data application of cell phones because it allows them to quickly see how the weather is going to impact their work," said Daci Hedden, U.S. Cellular director of sales in Washington.
"Farmers used to purchase cell phones primarily for emergencies," she said.
But that has changed, she said. With costs for minutes now being less expensive and the addition of more data services, farmers are finding cell phones have a myriad of additional uses, including Internet access from their tractors, she added.
Due to the recent implementation of expanded networks and digital technology, cell phones are more useful for rural businesses and are largely supplanting point-to-point and citizen's band radios, Hedden said.
"There are plenty of phone calls and plenty of paperwork to take care of when you're running a agricultural operation," Hedden said.
"Our customers like the fact they can handle a great deal of that work from the field rather than be hit by calls when they get back to their farm offices," she said.
She said in the near future not only will farmers have the ability to use their cell phones to check on market prices and storm warnings, they will be able to check on commodities reports and farm futures.
"This will again change how farmers use their cell phones," Hedden said.
In any case, for farmers like Kilian, the use of the cell phone is just another necessary tool for running their operation smoothly.
"It keeps me in touch," he said.