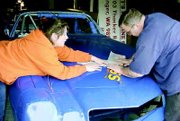 After two years the small downtown Sunnyside storefront on South Seventh Street opened by Larry and Marietta Schmid for their tattooing, screenprinting and sign business has become too small.
Packed with rolls of vinyl and t-shirts of every kind and design, space in the downtown business was definitely an issue for the Schmids. They ran out of room for places to work on their projects.
"About a year ago we knew we were really outgrowing our space," said Marietta Schmid, who is currently in the middle of moving her operation, while still serving her customers. It became even more evident in the past eight months, she said.
Outgrowing the downtown location, the Schmids began looking for other options. Besides space issues, the Schmids had a second challenge, that being they wanted their new location to be a place where they could live and work.
They also needed a covered area where they could apply vinyl lettering and designs to vehicles in any kind of weather.
A Port of Sunnyside property on the corner of Edison and Ray roads, a little more than two miles from their downtown location, fit the bill. The couple is now in the process of moving to their new location.
Mrs. Schmid said that operating the business became increasingly difficult with long hours and time away from the family.
"I'd run home and make dinner and not want to go back to the shop," she said, adding that they had little options with the growing number of clients they are serving.
With larger jobs on the horizon the expansion is none too soon.
This past year, L&M Screenprinting printed 1,000 shirts for the Harrison Middle School physical education program, the largest job the company has had since opening.
"Being able to move is wonderful for us," said Schmid.
Besides the extra space, they will be able to expand services.
"We plan to have a website soon," she said.
She added that an area of the new business location will have a computer and be open to customers wanting to design and lay out their own shirts.
"There will be a whole area just for customers wanting to design a single shirt or large orders," she said.
Up until now, Schmid has designed most of the shirts that have been ordered.
"I can take from any piece of artwork brought to me and recreate it," she said.
Not only does she make computer created art, she also custom paints artwork for t-shirts. She painted the artwork "Swim the Tropics" and "Swim the Wild, Wild Wet" for the 2003 and 2004 summer swim team championships.
"That's a shirt we want to do every year," said Schmid. "I want everyone who goes to the swim team championship to be able to afford a shirt."
She also designed the artwork for a t-shirt that will be made for Pioneer Elementary School.
What especially tickles Schmid is when she sees her shirts after years of wear. Last year, they saw someone wearing a Show and Shine t-shirt they created when they first started business in 1999.
Although Schmid said they will miss their downtown friends, they will not be far from the heart of the community.
With better ventilation and more room for big projects the move, which is still underway, is welcome.
Last year, the couple had to work on a 20-foot long banner at their former home and had to move the process to the back yard. When the weather turned bad, the project was moved to the family's dining room table.
At their new location, they will be able to complete large signs indoors, in a separate shop on the property.
The Schmids' new business is situated with a separate business entrance, reserved for customers.
Although they are currently living in what Schmid calls "chaos," she's happy with the decision to move.
"We have a lot more space out here and can expand to meet the need," she said. She added that moving to their new site, she will once again be able to tattoo by appointment.
"May 1 is when it won't be chaotic any more," she said, explaining that is the target date to be up and running at 100 percent efficiency.
In the meantime, the Schmids continue to take more orders. Most recently, they had an order to cut and adhere vinyl graphics to a race car.
"We are having the phones transferred out here," she said, "This week we will be in our downtown location preparing to move more."