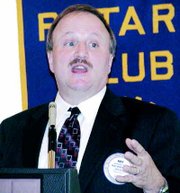 Tonight (Tuesday), the Sunnyside Economic Development Association board of directors will learn the details of a proposal to build a community vocational technology center in Sunnyside by 2006.
The 20,0000 square foot building would house educational and training programs for future workers in the community, which would serve to attract other businesses to the community, according to proponents.
Monday, the Sunnyside Noon Rotary Club got a preview of the multi-million dollar proposal. Dr. Rick Cole, Sunnyside School District Superintendent, gave Rotarians a thumbnail look of the $10 million proposal, which he said would enhance future economic development and vitality in the community.
Cole said the proposal has already gained preliminary approval from the Sunnyside Port Commission, which has agreed to allow the center to be located on a piece of Port property near CanAm Steel.
"We are hoping to make the vocational skills center a partnership between the public and private sectors of the community," said Cole. He said the state Legislature is already considering approving a $400,000 planning grant for the center.
Cole said the planning grant would allow for designing and program development, as well as other conceptual aspects of the center.
"There is clearly a need for the development of a skilled work force in the Lower Valley," he said.
Currently, Sunnyside School District has more than 100 students involved in the high school vocational programs, which includes welding, construction and automotive programs, said Cole.
He said there are another 36 students involved in other types of skilled training supervised by the Yakima Skills Center.
"We currently bus 15 of our students to the Yakima Skills Center in Yakima on a daily basis," Cole said, adding a Lower Valley vocational technology center would also be of use to adults in the community.
"Our goal is to promote the center as a huge draw for new businesses interested in relocating to the Lower Valley. In addition, we want to provide a public facility for area businesses, private and public work force trainers to provide on-demand technology and trades education for the area's current work force," Cole said.
"The center probably won't become a reality until 2006," he cautioned.