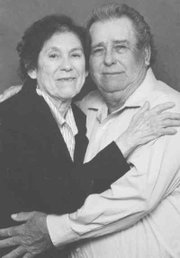 Felipe and Josefina Flores of Sunnyside will be celebrating their 50th wedding anniversary with a family dinner the first weekend in May.
The couple will be honored at their daughter Mary Fisher's Prosser home. Their children are hosting the dinner.
The couple was married April 24, 1955 in Mission, Texas. They moved to Sunnyside in 1962, where they raised their children.
The couple has four daughters, Mary and Scott Fisher of Prosser, Adelina Flores of Renton, Nellie and Madison Sparks of Poulsbo and Nollie and John Devol of Everett, and one son, Phil Flores of Richland. They have seven grandchildren and one great-grandchild.
Mr. and Mrs. Flores are both retired farmworkers.