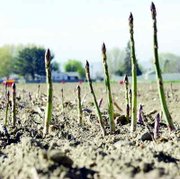 Congressman Doc Hastings yesterday continued his efforts to level the playing field for American asparagus growers by urging a top U.S. trade official to make asparagus a focus of negotiations on a new Andean free trade agreement.
Hastings' most recent action took the form of a letter signed by a bipartisan group of lawmakers from the asparagus growing states of Washington, Michigan and California. In the letter to Allen Johnson, the U.S. trade representatives' chief agricultural negotiator, the lawmakers stated that the current trade negotiations present an opportunity to fair address this trade problem.
"It is clear that asparagus growing communities in this country are facing unfair challenges and deserve to have this matter be a focus of trade agreement negotiations," the lawmakers wrote to Johnson.
Hastings, Central Washington's 4th District congressman, explained that American asparagus growers compete at a disadvantage in the domestic market because of increased asparagus imports from Peru. He said Peruvian growers benefit immensely from the duty-free access to U.S. markets they were granted in 1991 by the Andean Trade Preferences Act.
In addition to working to change U.S. policy over the past several years, Hastings has worked to support local asparagus growers by securing several bonus buys of asparagus for federal nutrition programs. The Pasco legislator also helped in securing federal funding that is being used to develop mechanical asparagus harvesting technology.