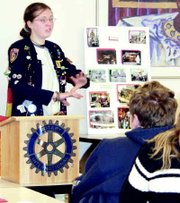 Listening to Sunnyside High School student Amanda Myers talk about her experiences as an exchange student in Germany is much like watching a young child talk about their favorite Christmas present.
Myers, who served as the guest speaker during Wednesday morning's Sunnyside Daybreak Rotary Club meeting, was very animated as she talked about all of her experiences. She recalled getting lost in Vatican City, having one of their tour guides run down a purse snatcher in Paris and being able to use a phone to tune a musical instrument in Vienna.
However, before Myers talked about her trip around Europe she shared with the Rotarians her experiences in Germany, where she stayed with a family in Hosel. She noted that she attended a school that specialized in music, adding that while in Germany she played with three different orchestras.
Myers said the school system in Germany is different than in the United States. She said each student typically takes 12 classes a week, spending three hours in each class per week. She said this meant that every day was different, noting that there was one day when she didn't start classes until 11 a.m.
According to Myers, the teachers in Germany aren't very nice.
"They are very blunt," she said.
She noted that she can still remember watching as a boy in one of her classes stood up to read a paper he had written out loud to the class. As the boy was reading the teacher stopped him, and told him that she couldn't believe he was reading his paper in front of the class because it wasn't very good.
Besides attending school and playing in several orchestras, Myers said she also joined the local swim team. She said the swim team was phenomenal with one of its members nearly making the Olympic team in the butterfly event.
During her time in Germany, Myers said she also had a chance to see first-hand the difference between East and West Germany. She said the buildings and roads found in East Germany are not as good as the ones found in West Germany. She added that most of the buildings in East Germany look the same and are painted the same color.
"It's all monotonous," Myers aid.
Besides spending time in Germany, Myers said there is an interesting Rotary program in the area that brings together Rotary exchange students from throughout the area to show them other parts of Europe. She said through the program she was able to meet exchange students from Finland, Russia, Canada, Mexico, Brazil, Argentina and Venezuela, who were on exchange in Europe.
It was through this program that she was able to take a trip through Europe. She said the group first stopped in the Czech Republic.
"You could just feel the history of it," Myers said of the country.
She noted that her group also visited Italy, stopping in Venice, Florence and Rome.
It was in Rome, while visiting St. Peter's Basilica, that Myers and another exchange student got separated from their group and found themselves lost in Vatican City. She noted that their adventure included contact with the Vatican police, borrowing a cell phone from an Australian tourist and finally using a postcard given to them by a local street vendor as a map to find the rest of their group.
In Vienna, Myers said she was impressed by the city, noting that you can use a phone to not only make a call but get an A note to tune your instrument.
In Paris, Myers said as the group was standing outside its youth hostel one of the girls had her purse snatched, but as the thief ran down the street one of the group's tour guides, who was a German track star, took off after him. She noted that after about 10 minutes the tour guide returned with the purse in hand.