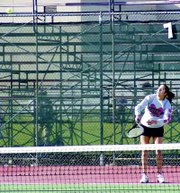 Tuesday's chilly afternoon weather didn't do anything to dampen the spirits of the undefeated Sunnyside High School girls tennis team, who worked to defeat Hanford 3-2. The Sunnyside boys didn't fare quite as well, absorbing a heartbreaking 3-2 loss to the unbeaten Hanford team.
Sunnyside Coach Troy Whittle said despite losing to Hanford, he was happy to see his boys team battle back.
Giving Sunnyside its two wins were brothers Danny and Johnny Plesha, who played in the No. 1 and No. 2 singles spots.
In the No. 1 singles spot Danny Plesha defeated Hanford's Oliver Lei 6-0, 6-0.
"Everything he hits he hits hard and he hits it in," Whittle said of the younger Plesha brother. "He's really playing incredible tennis right now."
Johnny Plesha, playing in the No. 2 singles spot for Sunnyside, defeated James Cavanaugh 6-1, 6-1.
"Johnny was totally the better tennis player," Whittle said of the match-up. "He did what he needed to do to win."
Playing for Sunnyside in the No. 1 doubles spot was the team of Jonathan Beals and Jesus Alquicira. The two lost to Hanford's David Zhang and Jon Choi 6-7 (2-7) 6-3, 6-3.
"It was really a good match," Whittle said. He noted that Beals and Alquicira played well together, but the other team ended up simply playing more consistent tennis.
The No. 2 doubles team of Jake Wavrin and Tyler Thompson lost to Hanford's Chad Witherspoon and McLaughlin Thomas 3-6, 7-5, 7-6 (7-4).
"In four years of coaching tennis this is the most heartbreaking loss I've ever seen," Whittle said. He noted that Wavrin and Thompson fought back hard against Hanford, bringing the match to a final tie-breaker.
The No. 3 doubles team of Hunter Van de Graaf and Justin Snyder were defeated by Hanford's Kevin McCallister and Jon Napier 6-2, 6-2.
"It just wasn't Justin and Hunter's best match," Whittle said. "They were just not as consistent as they have been."
As for the girls team, Whittle said he thinks this is the first time in four years that Sunnyside's team has defeated Hanford.
"It shows an improvement in our girls program," Whittle said.
Sunnyside's No. 1 singles player, senior Andrea Oesterle, was defeated by Hanford's Molly Knox, who went to State last year as a freshman. Knox won 6-0, 6-0.
The No. 2 girls singles player for Sunnyside, Nikki Hernandez, lost to Hanford's Caroline Baierle.
"It was a tough spot for Nikki to be put in," Whittle said, noting that Baierle is quite a good tennis player.
Sunnyside's No. 1 doubles team of Dolores Gomez and Erica Mendez won over Hanford's Maggi Crow and Rachel Reddick 6-7 (5-7) 6-2, 6-2.
"That's what we call a slow start," Whittle said. He noted that between sets he looked at his girls and told them they were going to win the match, all they had to do was relax. "The next two sets they played like I knew they would," Whittle said.
The No. 2 doubles team of Jerika Martinez and Lanna Pangle won over Hanford's Lauren Thomas and Jordan Jackson 6-1, 6-2.
"Jerika and Lanna may be the best No. 2 doubles team in the league," Whittle said of the two girls. "They are just consistently beating teams."
Sunnyside's No. 3 doubles team of Victoria Garza and Jessica Gudino defeated Hanford's Sujata Amin and Michelle Wingfield 6-0, 6-3.
"They looked good, very good together," Whittle said. "They played really well."
The Sunnyside tennis team will take to the court again Thursday in its first road match, against Ellensburg.