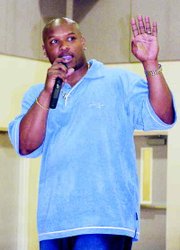 Sunnyside's Harrison Middle School got a visit from some big names with a big message Wednesday afternoon. Students had a chance to listen as three ex-college and professional athletes brought them a message that stressed self-confidence, academic importance and getting ready to take on the Washington Assessment of Student Learning (WASL) exams.
One of the speakers and the force behind the Game Time program, which was the theme of yesterday's assembly, was Derek Sparks, a member of the 1994 Washington State University Apple Bowl team. He went on to play two years with the San Francisco 49ers until a knee injury ended his career.
Sparks, who now lives in Seattle, told the students that Game Time is not only the name of his motivational program, but also the motto by which he lives his life. He noted that it means not letting the obstacles in life stop you from reaching your goals, adding that it means staying focused and on track.
Sparks said when he was in middle school in California he faced a lot of hardships. He noted that he grew up in a single parent household and was diagnosed at a young age with dyslexia.
"No matter what you are going through as young people, no matter what it is stacked up against you right now...I'm here to tell you that you are a champion and you can overcome the odds," Sparks told the students. "You have to believe...it's called commitment."
Sparks added that those people who are successful have to pay a price.
Another ex-WSU football player, Brian Stewart, explained that paying a price can mean simply opting to not hang out with your friends in order to be in class when you should be. He explained that just doing that can be paying a price.
Stewart, who graduated from Garfield High School near Seattle, told the students that when he was younger he was involved with gangs. He said because of his involvement with gangs he wasn't able to go straight on to a four-year university when he graduated from high school. Instead, he attended Walla Walla Community College before moving on to WSU. Stewart, who just recently graduated with his Master's degree, said he never saw himself as someone who would be where he is now.
Stewart said it's because he chose to pay a price and separate himself from gang activity and start paying attention to his academics that he is where he is now.
Keith Wheeler, an ex-WSU basketball player who just recently received a double Master's degree and who now works as a middle school teacher, explained to the students the importance of academics.
"As a student your primary objective is academics," Wheeler said. He added that with the WASL coming up next week, students are going to have to perform.
Wheeler noted that it's because of the WASL, as well as the students needing to secure a future for themselves, that they should be working to make the most of their education. He told the students that their education is not in their teachers' hands, instead it's in their own.
"It's your duty to go out and get your education," he said.
Wheeler then asked the students in the gymnasium to answer some questions in regards to the WASL, asking them how many sections the test includes and how many they are working to pass.
Sparks told the students that no matter what, when they sit down to take the WASL next week they have to believe in themselves and what they can do.
"You have to believe it," Sparks said.