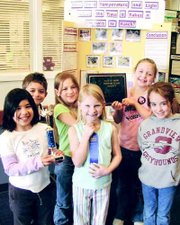 GRANDVIEW - Ask any of the six Harriet Thompson Elementary School first graders who worked on their science fair project what their project was about and in unison the group will respond, "How does temperature and light affect the time it takes a chrysalis to hatch."
Since January, the youngsters have been studying butterflies and caterpillars after school as part of a 21st Century grant program.
"It's the only way we can have the program," said Lucy Prieto, the second and third grade science program advisor. Her students took second place honors at the Washington State Science and Engineering Fair held in Bremerton earlier this month.
Under the direction of teacher Tiffany Wise, the first graders learned that caterpillars turn into butterflies and then lay their eggs and die.
The group's hypothesis was that with heat and light a chrysalis becomes a caterpillar more quickly.
In the darker areas of their experimental lab it took longer for the chrysalis to hatch, they learned.
The students learned other tidbits as part of the project, such as butterflies lay their eggs on the underside of leaves and it takes about two hours for a butterfly's wings to dry after they hatch.
The group studied painted lady and cabbage white butterflies for their project.
The Grandview second and third graders studied frogs.
The older students worked to find the answer to if population density had an adverse impact on frogs. The group believed that a lower density of eggs would be better for the frogs.
Studying African Clod frogs, an aquatic frog, the group started with 110 eggs and only ended up with five frogs by the end of the project.
Separating the eggs into several different environments and different sized groups, the science fair participants learned that in smaller groups there is too much movement and the eggs did not survive. Their hypothesis wasn't supported, said Ulyses Osuna, one of the students working on the project. "We believed the smaller population would survive better."