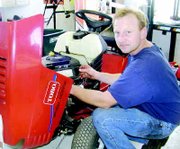 This time of year walking into Harold's Repair and Rentals on South Sixth Street in Sunnyside one has to skirt around a myriad of lawnmowers, rototillers and weed eaters, all waiting their turn to come under the skillful care of Travis Oxley and his boss and shop owner, Jim Grubenhoff.
But, admits Grubenhoff, it is Oxley who is the shop's repair wizard. "He can fix about anything," he said.
"I think most people would just as soon talk with him as me when it come to trouble-shooting repairs," Grubenhoff said.
Oxley just grins and asks how he can help.
This time of year, the two-man shop is swamped with repairs. Both men will tell new customers that it could be at least a week before they will be able to get to the newest machine on the repair waiting list.
But when they do get their hands on it, it is Oxley who enjoys the repair challenge the most.
"This time of year when everyone is bringing in their mowers, it can be a little overwhelming," he admitted.
But then, Oxley likes tinkering with small engines. He actually sought out the job at Harold's Repair and Rentals 10 years ago. Prior to that, he had worked on small engines when not overhauling 1960s muscle cars.
"I was working as a fabricator at the Sunnyside Farm Shop when Harold (Grubenhoff) came in and asked if I knew of anyone who would like a job repairing small engines," Oxley recalled.
"I applied for the job the next day," Oxley said.
The change of job has been a good fit for the soft-spoken man. Ask him questions about lawnmower care and he'll smile and say the best time to have the machines serviced for the next mowing season is in December or January.
"We're not so rushed then," he smiled.
If you aren't inclined to bring in the mower for a pre-winterization session, he recommends putting a gas stabilizer in the mower's fuel tank to preserve the fuel over the winter.
In the spring if you've left the fuel in, drain it off, he suggests. "Don't use regular unleaded fuel in your mower," is his second recommendation. Use a medium grade fuel or better, he added.
This year with water in short supply, Oxley suggests gardeners grow their lawns two to three inches taller than usual.
"That will help to retain moisture in your lawns," he said.
"Also, keep the mower blade sharp for a healthy looking lawn," Oxley said.
Oxley also recommends changing the oil in the mowers once every 20 working hours and to change the air filter regularly.
"That will save on the life of the engine," he said.
"Most people don't service their mowers as often as they should," he added.
But when they do, they won't find a better guy to bring it to than Oxley, said Grubenhoff.
"He's really good with engines and the customers. You can trust him with your small engine," Grubenhoff said.