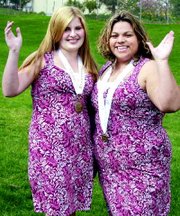 GRANDVIEW - The 2004-05 Grandview Junior Miss Court came dancing in under the theme of Mardi Gras and they will be going out this Saturday behind a spring backdrop.
Grandview Junior Miss Jody Davis and Co-finalist Jae Mains will be saying their farewells this Saturday night as a new court will make its way in.
Davis, 17, said she initially decided to compete for Grandview Junior Miss because it is something she has always wanted to do since she was a little girl. Davis recounted how she would always watch the floats go by her house during the annual parade in Grandview.
"I said, wow, I am going to do that some day," said Davis.
Mains, 18, opted to vie for the court because it sounded exciting.
"I like the excitement of competing," said Mains.
Both have fond memories of preparing the weeks prior to the actual Grandview Junior Miss program.
Davis said she remembers how hard it was in the weeks before preparing for the night of the Grandview Junior Miss program.
"My muscles ached," smiled Davis.
For Mains, the experience of running for the court was a bit different and time consuming.
"It was very busy," said Mains. "I am a busy person to begin with, but it was very worthwhile."
Both young ladies were surprised when they were named to the Grandview Junior Miss Court.
"(I thought) wow," said Davis. "I didn't know what to expect next."
The night of last year's Junior Miss program was emotional for Mains, not only being named to the court, but because her great grandfather, James Chester, had passed away. Mains said despite the passing of her great grandfather, she still decided to take part in the event.
"Because I am not a quitter," said Mains.
As one could imagine, the past year has held plenty of memorable moments for the two ambassadors of Grandview. Both Davis and Mains have plenty of stories to tell of shopping for dresses in the Tri-Cities to parades.
One of the more memorable stories for Mains involves a police officer.
"Two days after I got on the court I got pulled over for speeding," said Mains.
The only problem for Mains was that one of the Grandview Junior Miss committee members was sitting in the police car that pulled her over. But all went well for Mains, as everyone involved got a laugh out of the situation.
For Grandview's Junior Miss, traveling around to the different events has been memorable, but not for a reason you may think.
"I had a fetish with John Deere tractors and anything green," giggled Davis.
Davis is talking about the different tractors and other vehicles she would come across at parades and other events. Davis also grew a fondness for a mammoth monster truck she came across in Selah.
"I had to get a picture with that because some day I am going to buy that," said Davis.
One of the more unique events for Davis of the past year was competing at the Junior Miss State program in Pullman.
"It was very exciting," said Davis. "It is just a great experience."
Davis said she enjoyed experiencing new things and making numerous friends at State.
"Our nicknames were the chipmunks," said Davis, referring to the fact the young ladies at State were prone to chatting a lot.
A favorite activity of the court was going to the different parades, but neither Davis or Mains enjoyed getting up early. If you want a taste of their thoughts on getting up for the parades, then go to Saturday's Junior Miss program, as it will be the topic of their outgoing skit.
Davis enjoyed seeing the young kids at the parades.
"Their faces were priceless," said Davis.
Both girls admitted, though, that the famous royal wave was a bit tiring at times.
"The parades were fun because we got to go to a brand new community," said Davis.
Both Mains and Davis enjoyed meeting hundreds of new people over the last year.
For Mains, the most difficult part of the last year was trying to juggle her schedule. The easiest part came natural to her.
"I can pop in and out of a smile," said Mains.
If any one was ever wondered the secret to Davis' hairstyle for the parades and other events, than wonder no further. Davis admitted she used a fake hair piece, commonly referred by those around her to as "The Squirrel." Davis joked the hair piece was real easy to use. The most difficult part for Grandview's Junior Miss was having to relinquish her weekends for social engagements of the court.
Both young ladies, though, have taken the role of representing Grandview to heart. Mains said the important part of being on the court is to take the role seriously, but also be able to have fun with it.
"That is what it is all about," said Mains.
Davis took her role as Grandview Junior Miss much like Mains, with responsibility and dedication.
"People look at you all the time. They are always judging you," said Davis. "It is not a couple of hours job. It is 24 hours per day, seven days per week."
Davis and Mains said the past year on the Grandview Junior Miss court has helped them develop their leadership skills. The two say they have also gained the confidence to speak in front of others.
However, both young ladies were quick to point out that it would have been very difficult to do any of this without the support of their parents. Davis wanted to thank her parents, Roger and Polly Davis, and Mains wanted to acknowledge the efforts of her parents, Mike and Linda Chester and Tony Mains.
With a smile on their faces, the two chuckled at watching this year's court hopefuls practice for Saturday's program.
"It is fun to watch them and see them get excited," said Mains of the contestants.
"This is a learning experience for them," added Davis. "It is great to see how much they have grown."
For the incoming court, Davis and Mains offer this advice.
"This is a once in a lifetime opportunity," said Davis. "Make it worthwhile and make it fun. You are going to do good no matter what. It goes by so fast."
Davis and Mains both hope the Grandview community has been proud of how they have represented it.
"I hope that Grandview feels we have represented them in a good way," said Mains.
"I hope they are proud of us," added Davis. "And for other communities, I hope (through us) they saw how great our community is."