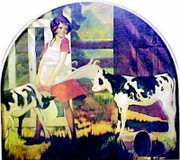 ELLENSBURG - The dairy industry is the focus of the Clymer Museum of Art's newest exhibit scheduled for May 6 through June 26.
The museum, which is located at 416 North Pearl Street, Ellensburg, is displaying the work in conjunction with the Dairy Industry Historical Society of British Columbia.
The exhibit is of John Ford Clymer's dairy and rural American art.
"A Tribute to the Dairy Industry" includes three of the eight original murals commissioned by the Frazier Valley Milk Producers Association in the mid 1920s.
The 7-foot by 6-foot murals depict different facets of the dairy industry and were originally designed as public advertisements. They were first displayed in the large arches above the windows of the old BC Electric Station at Hastings and Carroll Street in Vancouver, British Columbia, Canada. They were later gifted to the Dairy Industry Historical Society of British Columbia for stewardship and exhibition, according to Melanie Falcioni, curator of exhibits for the Clymer Museum of Art.
The Dairy Industry Society of BC is a non-profit society dedicated to preserving and interpreting the agricultural history of British Columbia.
In addition to the murals, the Clymer Museum will exhibit numerous other Clymer paintings of dairy, farm and country life, as well as advertising illustrations. An assortment of dairy memorabilia, including scrapbooks, photographs, milking equipment, milk cans and newspaper clippings will also be on display.
Former Dairy Princess Charlene Kauzlarich (1971-72), whose family owned and operated the Landes Dairy in Kittitas County from 1955 to 1969, will be on hand for the opening of the exhibit, which will be held from 5 to 8 p.m. on Friday, May 6. Her mother Ann Landes, former dairy owner, will accompany her. Landes family dairy memorabilia and equipment will be on display.
For more information on the exhibit contact Falcioni, (509) 962-6416.