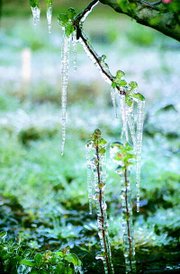 The Yakima Basin Storage Alliance is currently trying to assess just how badly growers in the Roza Irrigation District were hit by Tuesday and Wednesday nights' frosts.
Temperatures in the Yakima Basin dipped to as low as 22 degrees in some areas. With the Roza canal dry due to the drought, the below freezing weather is having a devastating impact.
Early estimates are that 10 to 15 percent of the fruit crop in the Roza District may have been wiped out this past Wednesday night.
One grower, Steve George, said he lost more than $30,000 of his cherry and apple crops Wednesday night. "That's roughly 10 percent of our total crop," he said, adding he and his crew are bracing for more of the same cold weather.
Over the last 30 years, local growers have come to rely on water, rather than fossil fuels, for frost protection. Because of this year's drought, George and other growers are investing money in wind machines to compensate for the drought. George said he spent $20,000 this year on wind machines.
One of the down sides to wind machines is that they run on propane. George said he has already burned through his entire propane budget for the year, spending $1,300 on propane Wednesday night alone.
"These costs are adding up fast," he said.
"Already, we've scaled back on hiring. If this keeps up, we'll be cutting way back," he added.
The Yakima Basin Storage Alliance figures this year's drought will cost the regional economy $1 billion.
"These impacts aren't limited to growers," said George. "You're already seeing the impacts ripple across our economy."
George said the Roza Irrigation District is doing its best under difficult circumstances.
"We've been looking for a lasting solution to our water supply needs for over four decades now," he continued. "We can't let ourselves be afraid to think big. It's the only way we will achieve a lasting solution."