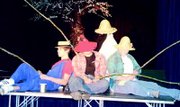 GRANDVIEW - The Grandview Middle School stage will be transformed to Dogpatch, USA, complete with a cabin and a backdrop of the Appalachian Mountains, next week as the Grandview High School drama club presents the Broadway musical "Li'l Abner."
Opening night will be Thursday, April 21, at 7 p.m. Evening performances will also be staged Friday, April 22, and Friday, April 29. A matinee will be staged Saturday, April 30, at 2 p.m. All of the performances will be on the Grandview Middle School stage. Tickets are $5 for adults and tickets for students with ASB and senior citizens are $3.
The show is based on the well-known comic strip and tells the story of hillbillies' content with life in their small community.
According to Melanie Manship, director of the musical, as the play progresses the government comes to town and tells the people that they need to leave because Dogpatch is needed to test nuclear bombs. (The government was sent to find a community that wasn't necessary for anything and found that criteria in Dogpatch.)
"At first they were honored and then they realized they were being tricked and started looking for things to make the town necessary," said Manship.
Another underlying story line in the show is the community's annual Sadie Hawkins Day race is coming up, she said.
Every year in Dogpatch the women of the community chase the man they want to marry and if they catch them they get to marry them, said Manship.
Daisy Mae Scragg is in love with Abner Yokum and yearly tries to catch him, but he always gets away.
Yet another layer in the story is that Abner, a big, handsome and strong young man, has been fed Yokumberry tonic since he was a child and now the government and a billionaire want to know what's in it.
"It's an amazingly fun show," said Manship, who tries to look at well-known popular plays when selecting a production to stage. "I want these kids to have some experience in a Broadway musical."
After reading through the musical, she said it looked to be a lot of fun and it had a lot of interesting characters.
This year, Manship has numerous first-time actors taking the stage, including Marcus Anderson, who is playing the lead of Li'l Abner.
Also performing in the production are Crystal Barrera as Daisy Mae, Rosie Madrigal as Mammy Yokum, Tony Ehart as Pappy Yokum, Andrew Morales as Earthquake McGoon, Noel Bush as Available Jones, Tim Roy as Sen. Jack S. Phogbound, Brandon Miller as Marryin Sam, Nathan Fleming as Mayor Dogmeat, Aaron Johnson as Dr. Finsdale, Nathen Wysong as Dr. Smithborne, Cassie Fisher as Dr. Krogmeyer and Art Flores as General Bullmoose.
Other cast members include, Anastasia Andrews, Matt Saldana, Zenoc Hernandez, Cora Fisher, Matt Hall, Adam Pena, Stephanie Uribe, D.J. Hernandez, Jacob Robillard, Juana Garibay, Taylor Snell, Brook Snell and William Snell.