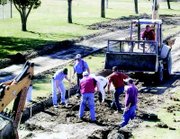 GRANGER - The Granger Booster Club is planning a barbecue and auction later this month to raise the necessary funds to compete a project at the Granger High School track
Club members recently broke ground at the Granger High School sports field for a new long jump and triple jump area, located to the west of the grandstands.
Now the club members are hoping to finish the second and third phases of the project, which calls for the pouring of gravel and cement and the placement of a rubberized top over both jump runaways, according to Gail Dodd, a club spokesperson.
She said the cost of the next phases of the project will be very expensive. In order to raise the money for the project, the Granger Booster Club will sponsor its annual barbecue and auction Sunday, April 24, at the high school.
Dodd said the barbecue begins at noon with the bidding for the plethora of auction items to follow at 1 p.m. Among the items available will be a half beef cut and wrapped, a barbecue and pool party, a nine-inch grinder, power tools, fishing poles, as well as gift baskets, gift certificates from area restaurants, hardware stores and motorcycle shops. Among those donating items are Johnson Foods, Bob's Drive-in, Valley Lanes, Sunnyside Motorcycle Co., Electric Beach, Les Schwab, Ace Hardware, New Holland, Sears, Knothole Gallery, Eastway Videos, Sunny Spot Carwash, Papa Murphys, A&W, Nobles, Sunnynails and Safeway.
Dodd said community members have also made crafts, cards, quilts and afghans which will be available at the auction.
For more information or to make a donation call Marilyn Slagg, 854-2118 or Diane Parson, 854-1333.