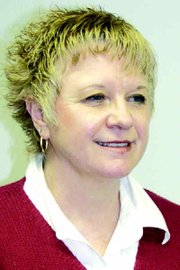 Grandview businesswoman Peggy Brewer has been elected president of the Sunnyside Community Hospital Board of Directors.
The 2005 board elections were held at the hospital board's annual meeting this past Tuesday night.
Prior to being elected as board president, Brewer was re-appointed to another three-year term as a board director. Brewer, who has served on the hospital board since 1995, will serve one year as board president.
Serving with Brewer will be Sunnyside Valley Irrigation District Manager Jim Trull as president-elect and David Ballinger as board secretary-treasurer. Ballinger, who is manager of the Lower Valley Credit Union, has served on the board for 15 years.
Re-appointed to the board were Grandview City Manager Jim Sewell and Sunnyside businesswoman Mary Ann Bliesner. She is the owner of Valley Processing of Sunnyside.
The board was recently honored at a reception held to mark the 20th anniversary of Sunnyside Community Hospital, an historic event which marked the merging of the boards and staffs of the former Valley Memorial and Sunnyside General Hospitals in 1985.