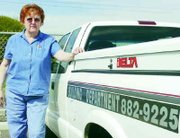 GRANDVIEW - For the past 11 years, anyone wanting to obtain a building permit in the City of Grandview has had to go through one person - Billie Barrett, the city's building inspector and code enforcement officer.
Barrett, who has served as a building inspector for 28 years, said her favorite part of the job is being able to go out and visit different job sites, talk to contractors and look over their work.
Although Barrett has had a long career as a building inspector, it isn't something she set out to do. She said before getting started in field of building inspections, she had worked jobs ranging from a waitress to a bartender to a night club dancer. Barrett, a mother of nine, said when you are working to raise a large family, a person does what she can to help provide for them.
Before coming to work for the City of Grandview, Barrett had served 17 years as a building inspector for Kittitas County. She noted that before taking that job she had been working as a secretary.
Barrett said at the time she decided to throw her name into the hat because there was a salary freeze in place at her job as a secretary.
Barrett said when she put in her application with Kittitas County she wasn't sure if it was a job she would get or not, noting that she was going up against more than 170 other applicants. In the end, Barrett said it was her ability to read plans that got her the position.
She explained that taking the job with Kittitas County meant not only serving as the county's building inspector, but also creating the entire building inspection department. She noted that before she was hired, the county had been contracting out for building inspection services.
As for how a secretary knew how to read building plans, Barrett noted that before moving back to Ellensburg, which is where she grew up, she had lived in Seattle. While she was in Seattle, Barrett said she worked as an airplane mechanic for Boeing. She explained that she became a mechanic at Boeing after applying for a secretarial position. She noted that when you apply for a job with the airplane manufacturer, you automatically are given an aptitude test. The aptitude test showed that Barrett had high mechanical abilities, which meant she didn't get the secretarial position, but did end up working on airplanes. Barrett said once her mechanical abilities were discovered, Boeing sent her to school so she could learn everything she would need to know to work on airplanes.
As for how the Ellensburg native came to work in Grandview, Barrett said working for Kittitas County she got to the point that she felt she was in a rut. That's when she started talking to her husband, Charles, asking him if he would be OK with her applying for other jobs outside of the Ellensburg area.
After being assured that her husband would support her career change, Barrett set to work sending out resumes. She noted that she realized there was a job opening for a building inspector in Grandview and after visiting the community, she decided it was a place she would like to end up.
"I liked Grandview, so here I am," Barrett said pointing to her office in the Grandview Public Works Department building.
Barrett said she enjoys her job working for the city, but added that she finds code enforcement to be the most challenging aspect of what she does.
"There are some people out there who are not happy with me," Barrett said of her code enforcement duties.
Barrett said her schedule as the code enforcement officer and the building inspector changes from day to day. She noted that she spends a lot of time reviewing plans, visiting building sites and checking on possible code violations.